Christmas 1915
Elmo, Ross and Friends from Metcalfe Public School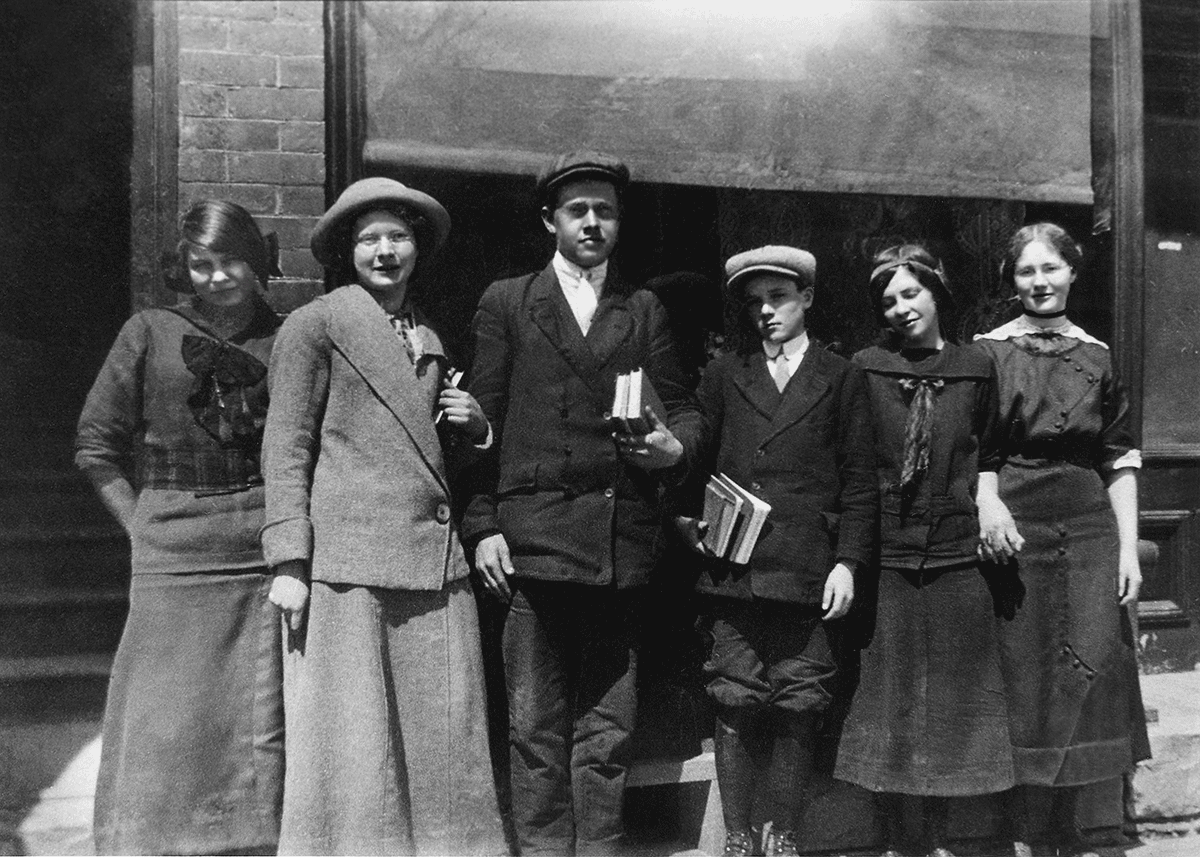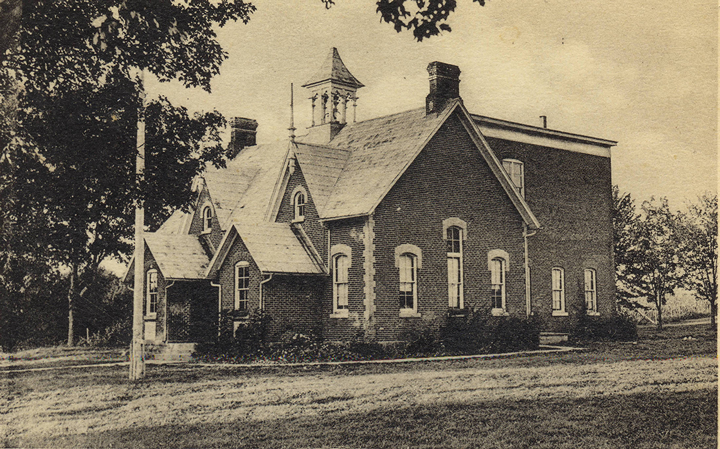 Letter 1916-05-03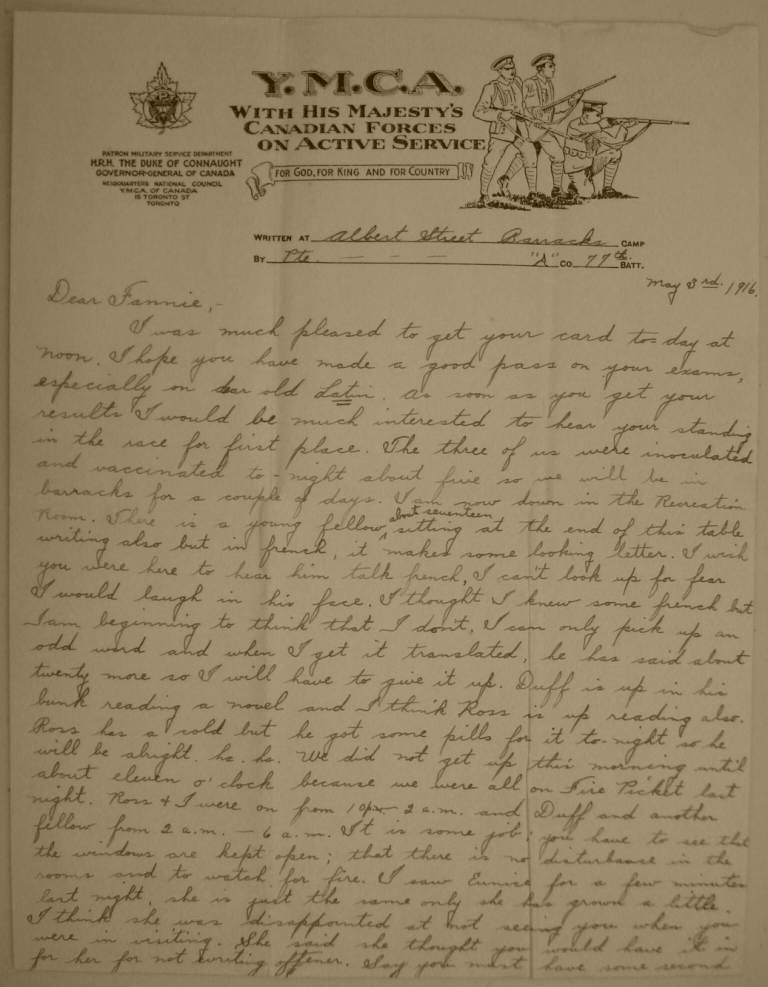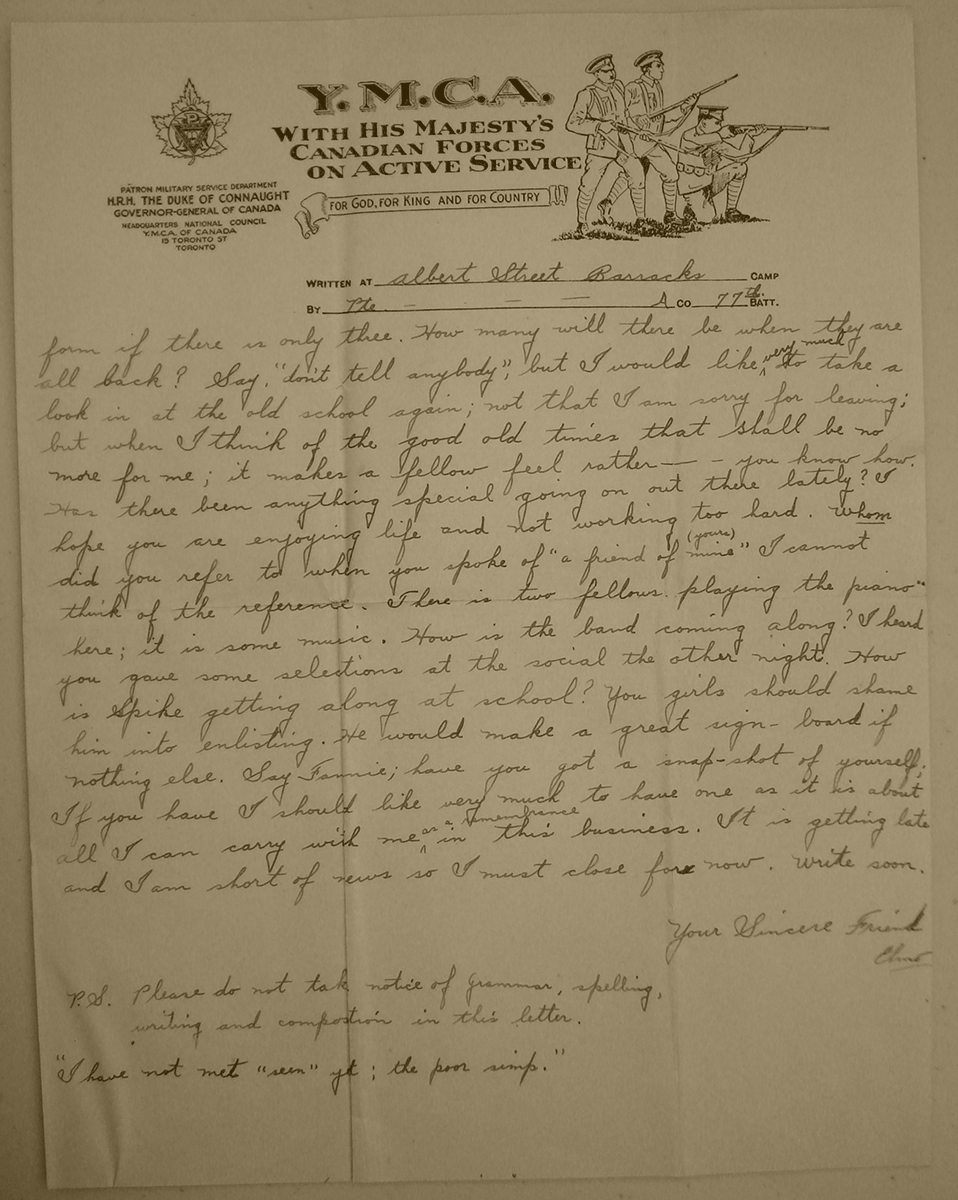 Introduction
November 1915. Elmo Sully knows the Canadian army needs him. A Great War is raging in Europe. The Canadian Expeditionary Force (CEF) is making a name for Canada in the fight alongside the British and the French, facing off against the Germans across the trenches of the Western Front. By the end of 1915, the CEF has been fighting in France and Belgium for eighteen months. Many of the 212,000 Canadian soldiers who already enlisted have been killed or wounded and there is no end in sight to the fighting. Elmo has played with the Metcalfe Brass Band at several rallies at the Town Hall, whipping up loyalty to 'King and Country' and calling all young men to the cause. And he has made up his mind to leave school and join the fight. His best friends from the Continuation Class meet him for an evening farewell party. They make a presentation.

Transcript Letter
November 1915
November 1915, Metcalfe
Dear Elmo,
We your fellow students and friends have gathered together here this evening in your honour. We have been companions for upwards of three years and now it seems this pleasant association must cease. This is for us an occasion both of joy and of sorrow – of sorrow, because we do not like to think of one of our number leaving the comforts of home to undergo all sorts of hardships, and giving up ease for discomfort – of joy, because to come forward and offer such a sacrifice one must be a true man, strong to renounce, steadfast to endure, and deserving all honour and gratitude. As a small token of our esteem we ask you to accept this ring that in the days to come it may be with you to remind you of past associations and of the best wishes of your friends for your safe return.
Ross Campbell
Jean Kennedy
Annie L. Cameron
Christmas 1915. Elmo is a very disappointed young man. Just three weeks after enlisting as a gunner in the 8th Brigade of the Canadian Forces Artillery, Elmo is discharged. The army has found out that he is underage. Like so many recruits he lied about his age. Did his father tip them off, not yet ready to give up his youngest child and only son?
By the time the New Year of 1916 rolls in, Elmo will be more discouraged. On January 1, 1916, Canadian Prime Minister Sir Robert Borden announces that he wants to increase the size of the Canadian forces to 500,000 men. It seems like all the local boys are already in the army while Elmo is left behind. His neighbour, Charlie Goodwillie, a twenty-one year old school teacher from Metcalfe is accepted into the infantry only the day after Elmo is discharged. And Alfred Goodwin who works at the corner store in Metcalfe got into the Engineers the same day. Elmo's first cousin Clifford Bradshaw was accepted at the end of November, and Russell Morrow back in October.
Frustrated, Elmo goes back to school in Metcalfe to wait out his eighteenth birthday and the opportunity to enlist again. And there can be no doubt that he will enlist again. As will his friends. Across Canada, the pressure is on all young men to join the war effort.
Elmo writes his final exams at the Metcalfe Continuation School. Then on April 20, 1916, now eighteen years old, he quietly sets off with two of his best school friends to the Albert Street Barracks in Ottawa to enlist. They are lively, popular young men and their absence leaves a hole in the Continuation classroom that can't be filled. Duff Crerar, aged nineteen, is from Vernon and has an older brother who has been a soldier since the beginning of the war. Ross Campbell is from nearby Springhill. He is just seventeen and underage for the army. Still wearing short pants for school, Ross borrows long pants from his brother and manages to persuade the recruiters to take him on. At the barracks Charlie Goodwillie, now a veteran of four months, vouches for them, and the four young men from Osgoode Township begin training together in the 77th Infantry Battalion for the Canadian Expeditionary Force.
Almost immediately, Elmo begins to exchange regular letters with Fannie Iveson, a fellow student from the Metcalfe Continuation School.
Transcript Letter
1916-05-03
May 3rd 1916
Dear Fannie,
I was much pleased to get your card to-day at noon. I hope you have made a good pass on your exams, especially on dear old Latin. As soon as you get your results I would be much interested to hear your standing on the race for first place. The three of us were inoculated and vaccinated12 to-night about five so we will be in barracks for a couple of days. I am now down in the Recreation room. There is a young fellow about seventeen sitting at the end of this table writing also but in french, it makes some looking letter. I wish you were here to hear him talk french, I can't look up for fear I would laugh in his face. I thought I knew some french but I am beginning to think that I don't. I can only pick up an odd word and when I get it translated, he has said about twenty more so I will have to give it up. Duff is up in his bunk reading a novel and I think Ross is up reading also. Ross has a cold but he got some pills for it to-night so he will be alright. ha. ha. We did not get up this morning until about eleven o'clock because we were all on Fire Picket last night. Ross & I were on from 10 p.m. – 2 p.m. and Duff and another fellow from 2 a.m. – 6 a.m. It is some job; you have to see that windows are kept open; that there is no disturbance in the rooms and to watch for fire.
I saw Eunice for a few minutes last night, she is just the same only she has grown a little. I think she was disappointed at not seeing you when you were in visiting. She said she thought you would have it in for her for not writing oftener. Say you must have some second form if there is only three. How many will there be when they are all back? Say, "don't tell anybody", but I would like very much to take a look in the old school again; not that I am sorry for leaving; but when I think of the good old times that shall be no more for me; it makes a fellow feel rather _ _ you know how. Is there anything special going on out there lately? I hope you are enjoying life and not working too hard.
Whom would you refer to when you spoke of "a friend of mine (yours)" I cannot think of the reference. There is two fellows playing the piano here; it is some music. How is the band coming along? I heard you gave some selections at the social the other night. How is Spike getting along at school? You girls should shame him into enlisting. He would make a great sign-board if nothing else. Say Frannie; have you got a snap-shot of yourself; if you have I should like very much to have one as it is about all I can carry with me as a remembrance in this business. It is getting late and I am short of news so I must close for now. Write soon.
Your Sincere Friend
Elmo
Part 1, Letter 1, May 3, 1916
What are the soldiers doing to pass the time as they wait to be sent overseas to the war?
1916-05-07
Charles Goodwillie Class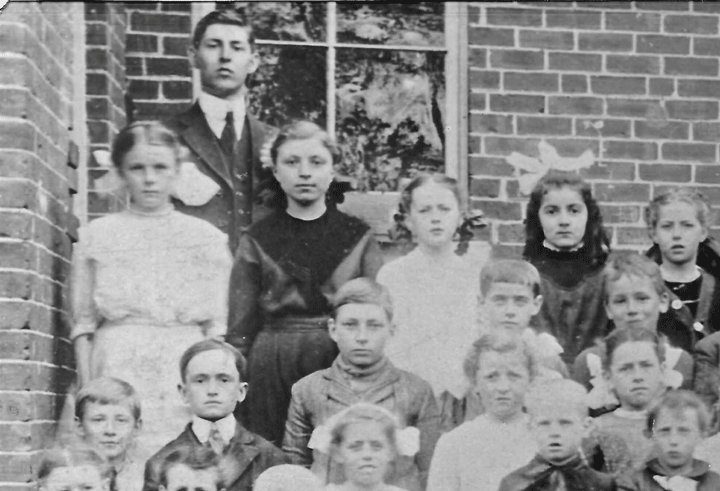 Elmo's correspondent Fannie is a bright, hardworking student. She is two years younger than Elmo, aged sixteen in the spring of 1916, and still in Form II of the Continuation Class. The youngest daughter by twelve years in a family of eight children, she is the only child still living with her parents at their home on the main street in Metcalfe . Her father is a harness maker, the Township Treasurer, and runs the village telegraph office.
Elmo and Fannie share ambitions for higher education. Fannie's older sister, the school's principal Miss Sadie Iveson, is a university graduate, and Fannie and Elmo both hope to follow in her footsteps. But Elmo must put his educational aspirations on hold now that he is in the army.
But what really endears Fannie to Elmo is her taste for gossip. Fannie is a keen observer of village society and is full of local news about all of Elmo's old friends in Metcalfe. Elmo looks forward to Fannie's letters because they keep him in touch with his simpler school days in the village, while he faces a much more complicated life in the army.
Fannie and Elmo write to each other almost every week during the war.
Transcript Letter
1916-05-07
May 7th 1916
Dear Fannie,
I received your welcome letter friday evening. We are all O. K. except for a slight cold. It is about 12 o'clock noon now and Ross and I are here in the Recreation room waiting for the dinner call. Duff is up in his bunk reading a novel as usual. We paraded to Christ Church Cathedral this morning at nine. The 77th is going to be inspected by [Governor General] H.R.H. the Duke of Connaught to-morrow, down on the square. Say, I wish I had been out there last wednesday night, I suppose you were not at the dance. As I told you in my last letter, I saw Eunice one evening but you need not worry about her being too much taken up with me although she does not write very often. I see Sinclair two or three times a day; I am sorry for you but he has a girl down here on Albert Street, so you might send me the picture that he wanted. I am sorry you got the blues about not going to your sister Mae's17 this summer but just think of the summer holidays we are going to have and you will see you have something to be thankful for even yet. I do not believe our battalion will be in Ottawa by the end of May but still one cannot tell.
I was sadly shocked when I heard that Thurso Carson was married but it seems that some things like that must happen. Say, if it is not private, I would like to know the "bold question" you were asked the other day. I imagine I see "Cutie" trying to pull Ed B[radshaw] around. They are well matched as far as gab goes. Ed will have to get a new record on if he keeps up with Katie [Mullins].
I would have liked very much to have known your address when you were in town, but there is no use in crying over spilt milk. We will go down to Mrs. Yorke's some evening if we can get time.
I hope you are not getting too sick of school although it must be quiet if there is only six in second form. You want to make honours on this exam in June. I don't think I am becoming very citified as yet although I like it fine; but there are almost as many drawbacks in the city as there are in the country however there is always something going on in the city. I should have liked very much to have been in Metcalfe last sunday evening but, as you will understand, they wanted me to stay at home for one night18 so I did not like to refuse. Nevertheless I hope to be in Metcalfe another evening or two before I leave my native land. I quite understand how you were situated saturday night and I admire your respect for your promise and your parents; nevertheless I hope you will have a clear conscience to go out if by some good fortune, I should again get out to the old town. That was some idea of Mrs. C's. I thought Charlie had more brains than he has. Apparently he does not know a good thing when he sees it. ha. ha. You must be some poetess alright, be sure and send me a copy of your verses. Well I guess you are tired reading this dry scribbling. Do not be afraid of writing too long a letter; letters are the only bit of real enjoyment we have so please do not cut them short. I am enclosing one of those postcards but please do not let on, this is an awful place to tease. Don't tell, but I saw Duff mailing one to Hilda R[olston]19 the other day. Well good-bye, I hope you are enjoying life.
I remain, Your Sincere friend, Elmo
Seventy-Seventh's Tipperary
Seventy-Seventh's Tipperary
Recruiting song written for the 77th Battalion in November 1915, to be sung to the tune of the popular 1912 song, ."It's a Long Long Way to Tipperary"
Our King and country's calling for men to fight the foe; So every man who's fit and can, should ready get to go; This is not time for talking, there's grim work to be done; We'll cross the seas, and to his knee, help bring the Kultured Hun.
It's a long way to the Vaterland, it's along way to go, It's a long way to the Vaterland, the going's sure but slow; Good-bye Old Ottawa, farewell Connaught Square, It's a long, long way to the Vaterland, but we will get there.
Canadians are calling as the cannons loudly roar, Calling from the Trenches; "We want more men and more; Why don't you come and help us – this is the game to play, Have you forgot St. Julien, where Canadians saved the day?"
It's a long way to the Vaterland, etc.
That's why we are in Khaki, and you bet we're feeling fine, But we'll be feeling better when marching to the Rhine; There will be something doing when the Germans we do meet, For we're the Seventy-Seventh – Commander: Colonel Street.
It's a long way to the Vaterland, etc.
Say, won't you come and join us and do "your little bit, Don't you be a "slacker", to cheer and then to quit; There's a uniform waiting, why then do you hang back? Come, do your share, let's all be there, to fight for the Union Jack.
It's a long way to the Vaterland, etc.