Letter 1916-05-16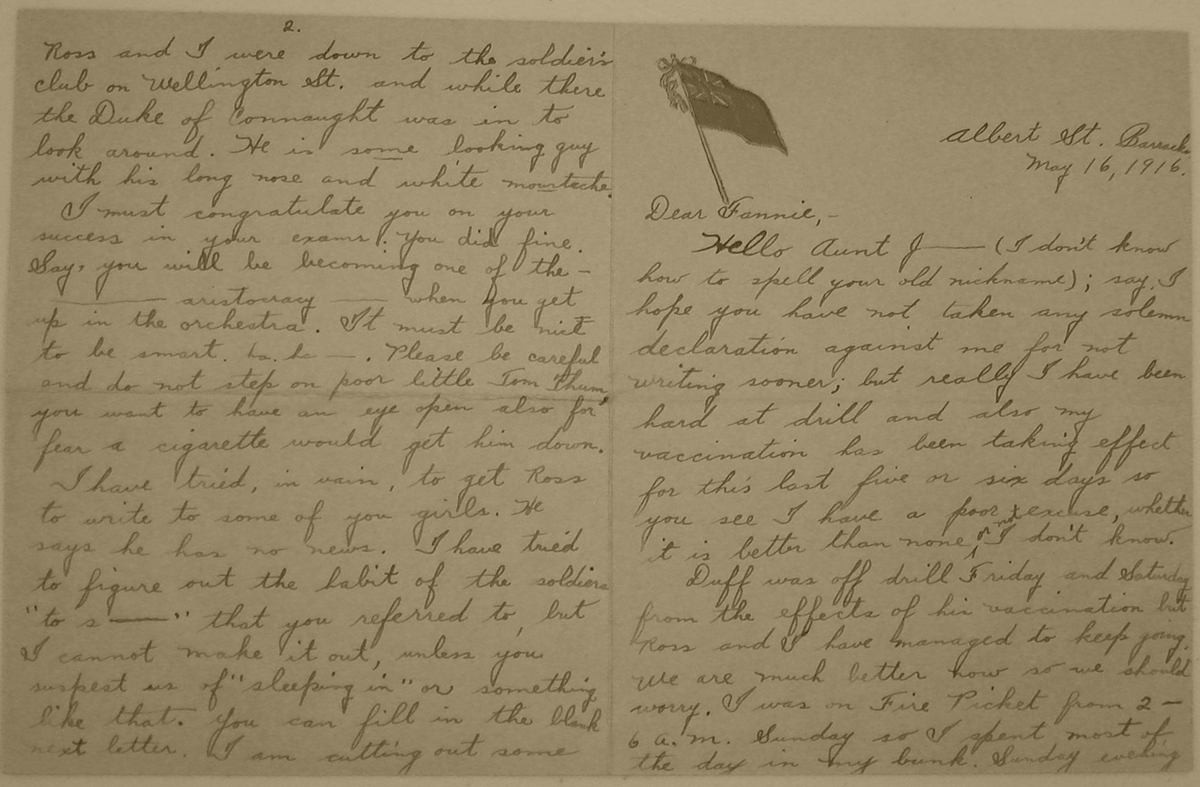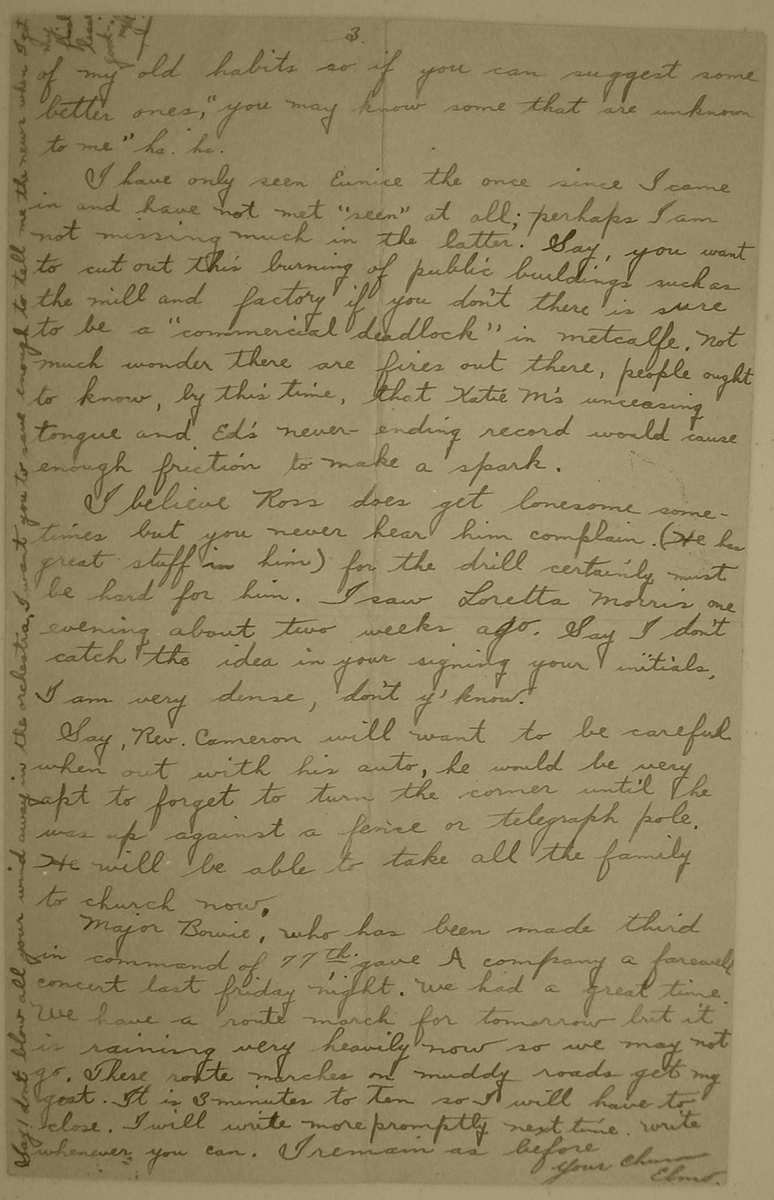 Transcript Letter
1916-05-16
The boys are feeling the effects of more vaccinations, and they have a surprise encounter with the Duke of Connaught, Governor General of Canada.
Albert St. Barracks
May 16, 1916
Dear Fannie,
Hello Aunt J---- (I don't know how to spell your old nickname); say, I hope you have not taken any solemn declaration against me for not writing sooner, but really I have been hard at drill and also my vaccination has been taking effect for this last five or six days so you see I have a poor excuse, whether it is better than none or not I don't know.
Duff was off drill Friday and Saturday from the effects of his vaccination but Ross and I have managed to keep going. We are much better now so we should worry. I was on Fire Picket from 2 – 6 a.m. Sunday so I spent most of the day in my bunk. Sunday evening Ross and I were down to the soldier's club on Wellington St. and while there the Duke of Connaught was in to look around. He is some looking guy with his long nose and white moustache.
I must congratulate you on your success in your exams. You did fine. Say, you will be becoming on of the --- aristocracy---- when you get up in the orchestra. It must be nice to be smart. ha. ha. ---. Please be careful and do not step on poor Tom Thum, you want to have an eye open also for fear a cigarette would get him down.
I have tried, in vain, to get Ross to write some of you girls. He says he has no news. I have tried to figure out the habit of the soldiers "to s----" that you referred to, but I cannot make it out, unless you suspect us of "sleeping in" or something like that. You can fill in the blank next letter. I am cutting out some [n.p.] of my old habits so if you can suggest some better ones, "you may know some that are unknown to me" ha. ha.
I have only seen Eunice the once since I came in and have not met "seen" at all; perhaps I am not missing much in the latter. Say, you want to cut out this burning of public buildings such as the mill and factory if you don't there is sure to be a "commercial deadlock" in Metcalfe. Not much wonder there are fires out there, people ought to know, by this time, that Katie M's unceasing tongue and Ed's never-ending record would cause enough friction to make a spark.
I believe Ross does get lonesome some times but you never hear him complain. (He has great stuff in him) for the drill certainly must be hard for him. I saw Loretta Morris one evening about two weeks ago. Say I don't catch the idea in your signing your initials, I am very dense, don't y'know.
Say, Rev. Cameron will want to be careful when out with his auto, he would be very apt to forget to turn the corner until he was up against a fense or telegraph pole. He will be able to take all the family to church now.
Major Bowie, who has been made third in command of 77th gave A company a farewell concert last friday night. We had a great time. We have a route march for tomorrow but it is raining very heavily now so we may not go. These route marches on muddy roads get my goat. It is 3 minutes to ten so I will have to close. I will write promptly next time. Write whenever you can. I remain as before
Your Chum
Elmo.
Say! don't blow all your wind away in the orchestra, I want you to save enough to tell me the news when I get my final leave good night
Part 2, Letter 2, May 21, 1916
What evidence suggests that Elmo is not pleased with other young men who have not signed up to defend their country?
Letter 1916-05-21
Duff, Elmo and Ross
Have postcards made of them in uniform.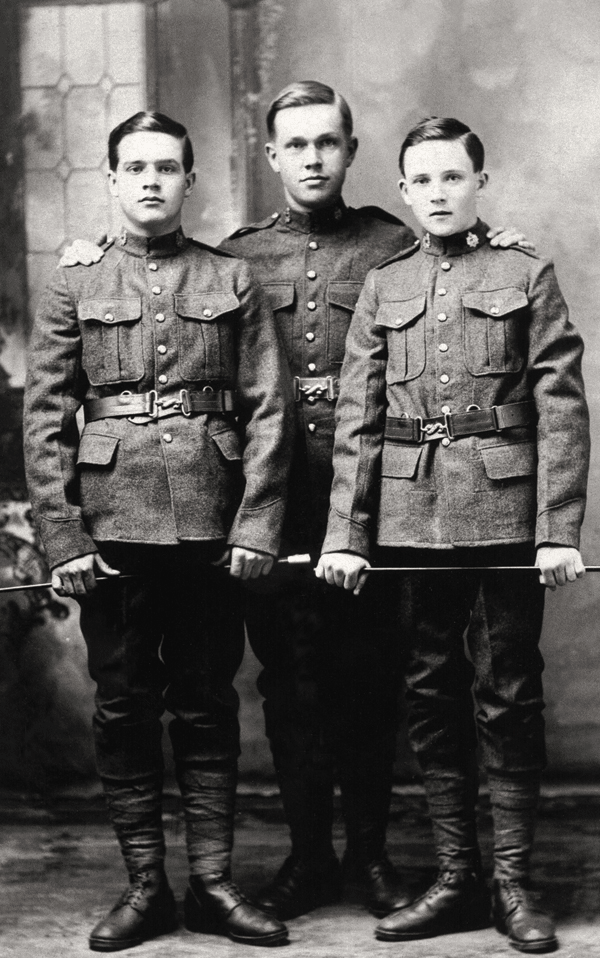 Elmo is exposed to war propaganda. He is developing strong opinions about the other men who have signed up, and those who have not.
Transcript 1916-05-21
Albert St. Barracks
May 21, 1916.
Dear Fannie,
I am going to be more prompt in answering your letter of 18th, which I was very glad to receive friday evening. Ross and I are down here at the Soldier's club writing. Duff is down-town somewhere. We were to church this morning and expect to go to hear a recruiting service to-night. Ross and I were to the Russell20 last night. The pictures illustrated Belgium in peace and war. They were great but some were sad sights. I wish you had been there and you would have seen why we enlisted.
How is school coming along? You must be having a great time this lovely spring weather. Say, don't I wish I had been with the load that went to Kenmore. You must have had a great time, but I guess such joy rides will not be mine any more. I suppose "somebody else" you know who, has taken my place anyhow. I don't know why it should be reported that we would be home this week, but you know how such talk starts. Please do not mention to anyone, but I expect to be out home on my final leave about the last of next week. I don't think the 77th will leave before the middle of June but still one cannot tell. There are about a couple of hundred on furlough now. We are having a great parade through the city on wednesday morning and sports in the afternoon. I imagine that Vera [Murphy?], Stella and you would make some trio. Say, Ross and I got a snap taken the other night and believe me it is some class. That snap that Willard showed you was one we got taken one sunday afternoon. The girls are my cousin and her chum. I hope you don't lose your place in the orchestra on account of some ------, although I don't blame you a bit for doing so.
I don't think there is any danger of Ross bringing a girl home with him on his furlough. Ross and I have strictly nothing to do with girls. We nearly always go together so I be his girl one night and he be's mine the next. See how it works. Ross looks much better than when he came in here. I suppose you heard that we got our Entrance to Normal21 certificates.
I suppose you knew Henry McAnn had enlisted. I was almost speechless yesterday when I met him on the street, in uniform. The 207th must (not) be very particular about their men.22 Have any other fellows made up their minds to "break away from their mammies". I think it is cold feet that is wrong with the most of them. They have some great recruiting meetings in here for the 207th. I am glad you are not here to see me today; yesterday, while playing baseball on the square I got struck with the ball right in the puss and I have a lip like a piece of beef, but why should I worry, ha ha. Write soon, soon,
Your old chum,
Elmo
Letter 1916-05-30
Metcale School Class Photo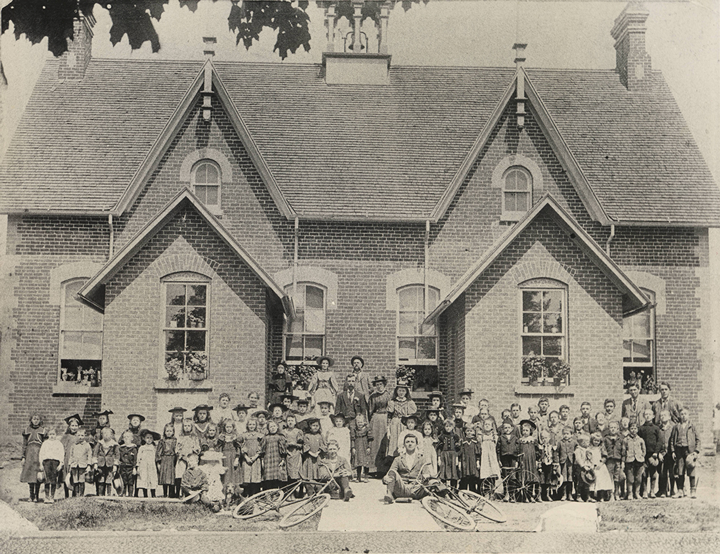 Elmo has been assigned to 'A' Company, one of four companies of 200 men each in the 77th Battalion. All together the Battalion will have about 1000 men. He hopes to see Fannie one more time before he leaves.
Transcript Letter
1916-05-30
May 30, 1916
12 p.m.
Dear Fannie,
Well I suppose you are back at school as usual. I got back to barracks about 11:30 sunday night. Ross came back monday morning. I suppose you heard that the 88th, 89th,and 90th battalions were inspected yesterday morning on the [Parliament] hill. A company acted as escorts so we saw all the parade. There were between three and four thousand.
Say! Please excuse the pencil and writing as I am writing this on my knee up in my bunk.
If possible, please try and be in Ottawa before we leave. I cannot realize that I have seen all my friends around Metcalfe for the last time and if at all possible I will be out again but we haven't got the bossing of the job so we have to take what we can get. Ross is on "Officer's Mess" to-day but we escaped any duty and have been bayonet-fighting all morning. Well good-bye, write and tell me all the news and oblidge
Your chum
Elmo
P.S. Please excuse the paper, my box of writing paper has been thrown all around my bunk while I was away with the result as seen.
1916-06-05
Metcalfe Public School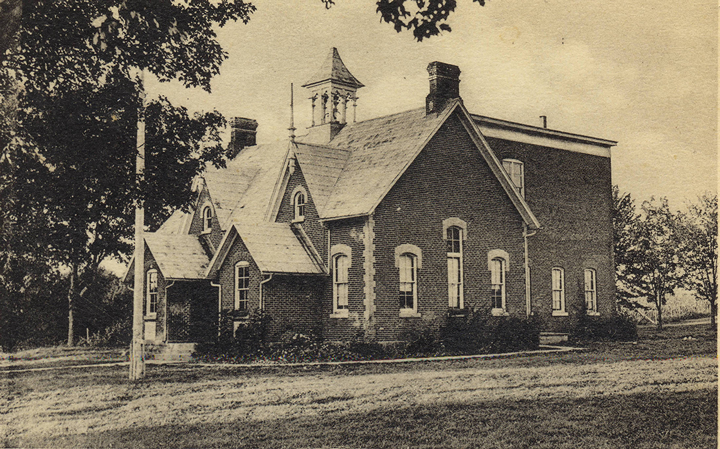 Elmo is proud to be receiving his first salary. In May he allots his special allowance of $60 to his sister. Henceforth, he earns $1 every day, and will get ten percent more once he is in the field. From July, his mother will receive $20 of his salary every month.
But he has had a disappointment.
Transcript Letter
1916-06-05
Albert St. Barracks,
June 5, 1916
12 noon
Dear Fannie,
Well old chum, I have had a fit of the blues for these last two days. I did not receive your letter of June 1 until yesterday at 1.10 P.M. and of course it was too late to let you know that the arrangement you spoke of was quite satisfactory. I waited in barracks until 2 P.M. but no phone message came so I gave up hope. You can imagine how I felt and what I said about the mail-man. Well! I suppose "there is no use in crying over spilt milk" but I cannot express my disappointment in not seeing you. We have got orders "yesterday" to be ready to embark for active service so our stay in Ottawa will be short.
I think we will be here next sunday but it will be our duty day so I may not be off. Now look here! If you come to Ottawa next sunday you might let me know and if I am to be on duty I will know saturday night so I can phone and let you know.
Perhaps you could come in saturday. I will be off from 12 at noon. This will be our last sunday here so please do your best.
I am going to give you a short outline of our duties from last wednesday so you will not blame me for not answering your letter of May 29th. Thursday we had route march out to the Hunt Club – we got our first lesson in trench digging and returned to barracks in the evening. Friday, A Company went to the Rockliffe rifle ranges. I happened to be in the first squad that shot so we were sent into the butts to mark for the others. Gee, we were nearly roasted and did not get dinner till after two o'clock. In the afternoon we returned to barracks. Saturday morning Ross, Duff and I were all on Hull guard. The guard was mounted at 8 o'clock, then we marched to Hull, to the Hull iron and steel foundry23, where they make shells. We were on guard there until 8.45 sunday morning and arrived back at barracks about 9.30. It is some job to be on guard; we were all like as if we had been on a spree from lack of sleep so you can have an idea how I felt when I got your letter that I should have had friday. It is now 12.45 and I must catch the parade for dinner so good-by for now.
Your old pal
Elmo
Please excuse this scribbling, and let me know if you can do anything along the line of getting to Ottawa. Don't study too hard. E.A.S.