Letter 1916-07-03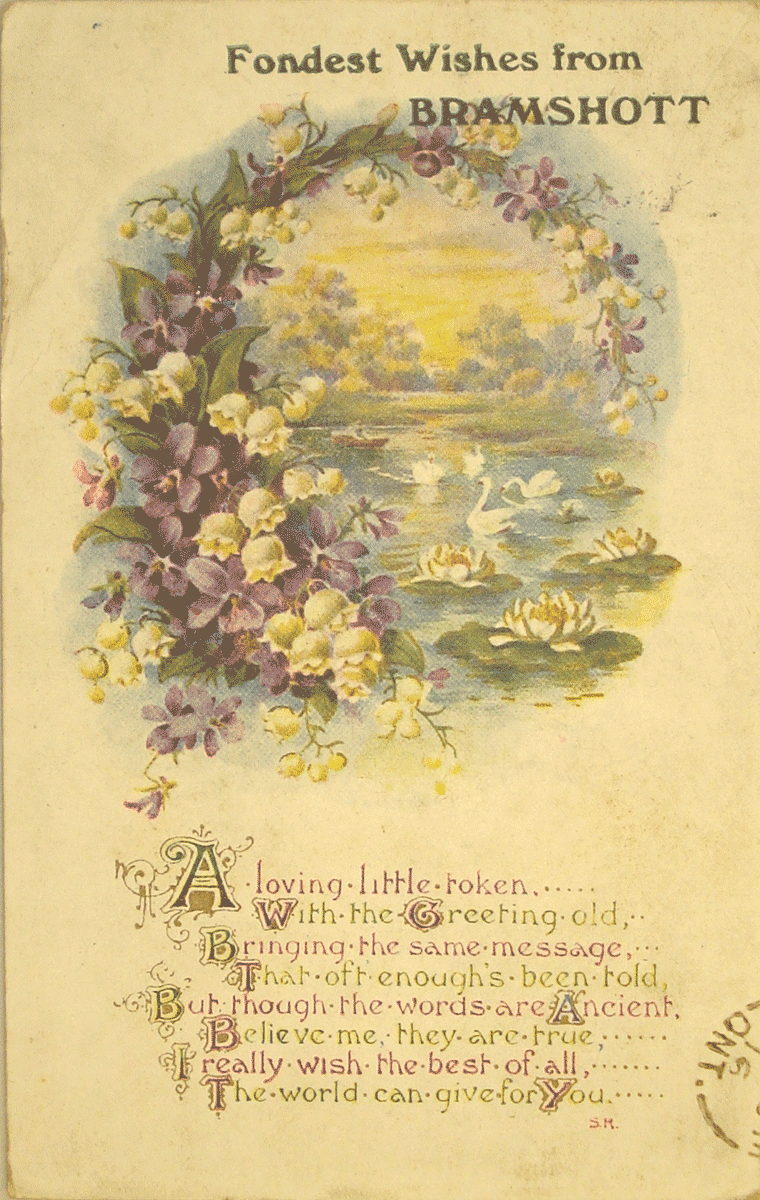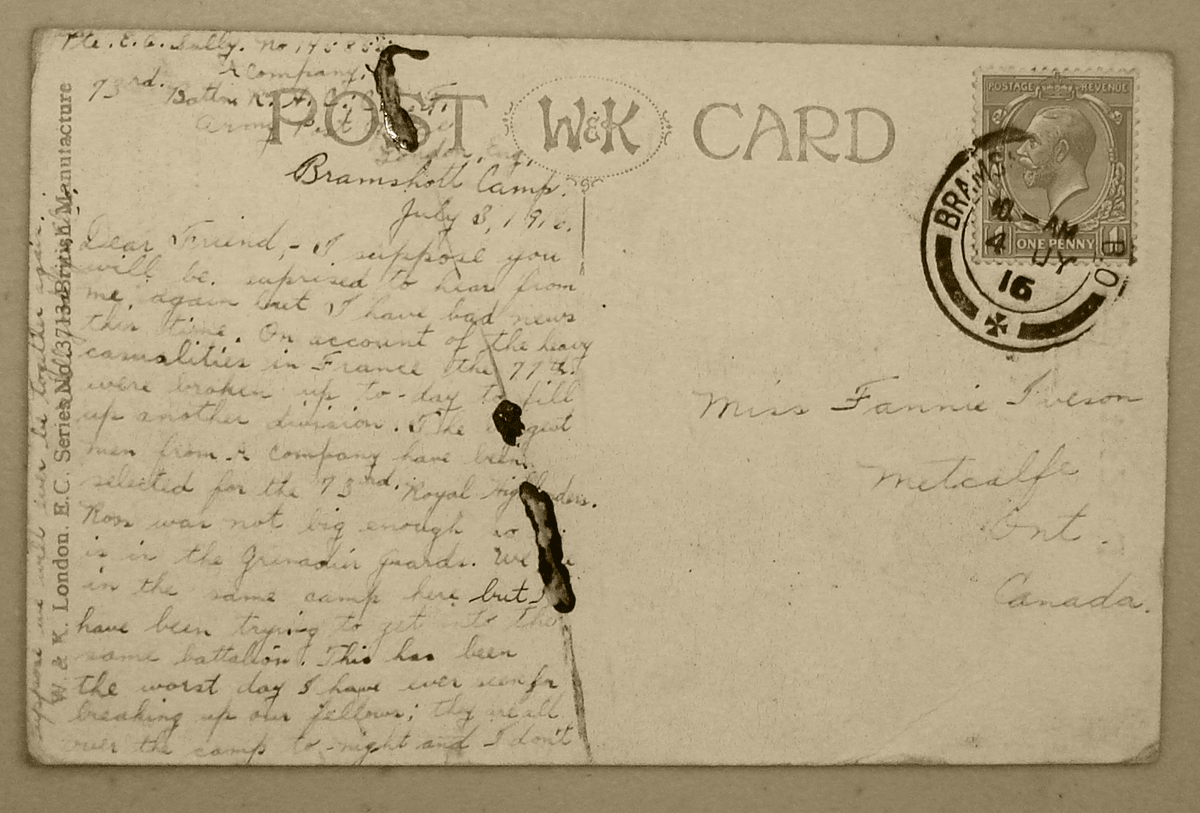 After three months of rising excitement and expectation, Elmo's spirits come crashing down in the face of an arbitrary army decision. As of July 3, 1916, the 77th Battalion ceases to exist as the whole battalion was absorbed into other battalions including the 73rd and the 87th. The Canadian battalions are all recruited from local populations, and the soldiers expect that they will serve alongside their friends and neighbours. However, the enormous casualties in the first two years of the war, and the increasing difficulty of finding enough volunteers in Canada for such a large army, mean that the battalions already in the field are seriously undermanned. They need new blood and the recently arrived battalions like Elmo's 77th have to provide it. But it is the separation from Ross that upsets Elmo the most.
Transcript Letter
1916-07-03
Post Card]
Pte. E.A. Sully No 145855
A Company
73rd Battn. R.H.C. C.E.F.
Army Post Office
London, Eng.
Bramshott Camp
July 3, 1916
Dear Friend,
I suppose you will be surprised to hear from me again but I have bad news this time. On account of the heavy casualties in France the 77th were broken up to-day to fill up another division. The biggest men from A Company have been selected for the 73rd Royal Highlanders . Ross was not big enough so he is in the Grenadier Guards . We are in the same camp here but I have been trying to get into the same battalion. This has been the worst day I have ever seen for breaking up fellows; they are all over the camp to-night and I don't suppose we will ever be together again.
Well goodbye, Elmo

Part 4, Letter 2, July 9, 1916
Create a timeline for Elmo's day starting at 6:30 in the morning. Once it is completed, write down how you would describe the day of a soldier?
Part 4, Letter 5, August 6, 1916
What are the highlights of Elmo's trip to London? Describe the march he has to do when he returns to camp.
1916-07-09
Training Overseas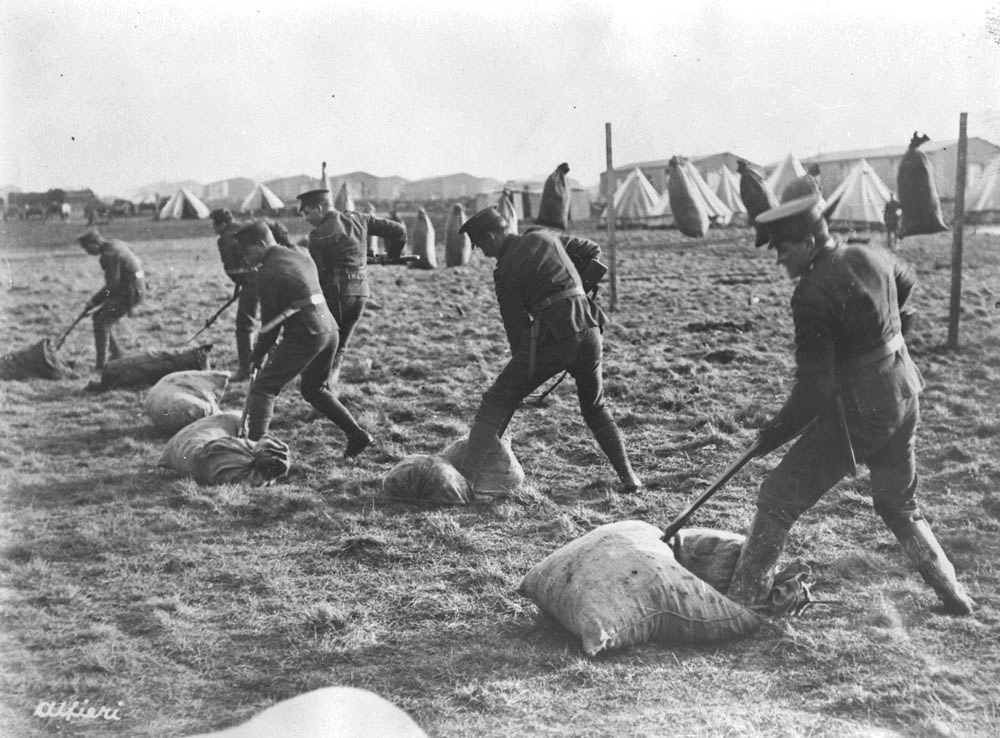 The soldiers have target practice, go on route marches by day and night manoeuvres after dark, learn how to dig and reinforce trenches, practice fighting with bayonets and hand grenades, and learn first aid. They are even trained to sing on the march. Training exercises typically take place five days a week leaving Saturdays and Sundays free to explore local communities and farther afield.
Transcript Letter
1916-07-09
Longmoor Camp, Sunday
July 9, 1916
Dear Fannie,
I suppose you are watching the papers these evenings for your name at the head of a certain list . You want to let me know who all passes when the list comes out as I am still interested in the doings at M[etcalfe] H[igh] School.
Say Fannie, I hope you will not be shocked but I am going to give you a description of how we spent this our second sunday in England. We arose at 6.30, cleaned up and had breakfast. At 8.15 we "fell in" for service which was held on the parade ground. The preacher stood on two benches while about three thousand soldiers were lined around him. At 9.30 we lined up with rifles and side-arms and carried on with the usual musketry instruction until noon. At 1.45 P.M. we again "fell in" and had rapid-firing until 3.30. Then we put away our rifles and had a parade to clean up the camp grounds. After that we were issued with oil and ordered to oil all the straps of our equipment ready for 5.30 a.m.to-morrow. Then we had supper and Duff & I came up here to the Y.M.C.A. to write home. Now I don't want you to think that we have to work every sunday; it is only while we are up here at the rifle ranges, which is quite enough to suit me.
Our average day begins at 5.30 in the morning and lasts till 5.30 in the evening, then we are free till 9 P.M. Last night Duff & I were down to Lis, a small town about 2 miles from here, for a walk. Friday night Ross and I were up here at the Y.M.C.A. where a lady gave an entertainment for the soldiers.
You must be tired of reading this so I'll change the subject. How is "Ned" of the bookstore getting along? I suppose the "Metcalfe Brass Band" is quite famous by now. Have you seen Henry McAnn since he enlisted?
Is the principal evening occupation in Metcalfe still street-walking and how is Eddie B. and "Cutie" coming along? Say! was Sadie (I should say Miss Iveson ) at the station in Maxwell when we went through that saturday. We went through so fast that I could not recognize anyone.
There is a service going on in the other end of this building; they are singing "When the roll is called up yonder" now; it sounds good after the continual clicking of rifles and shouting of commands. There is conscription here now. There was a parade of about two thousand conscripts went past here to-day. They were all fellows like Ed. Bradshaw and H. Hanes, "general Bums". When I saw them marching past I just wondered how the people around Metcalfe would feel if conscription came to Canada. Here in England it is as odd to see a man in civilians as it is to see one in uniform in Metcalfe. The women and old men do the work. I noticed several women and girls working in the cement factories in Liverpool and in Birmingham all offices and such positions are held by women, even the ticket agents and station directors are women.
There is some beautiful scenery here, especially the flower-gardens attracted my attention. I got my first good view of an airship to-day at noon as it passed over the camp. It is getting late so I must close. I'll put my address on the lower corner lest my last letter should have gone astray.
I remain,
Your old chum
Elmo
Pte. E.A. Sully, No 145855
"A" Company,
73rd Battn. R.H.C.;C.E.F.
Army Post Office
London England
Elmo learns what to do during a gas attack, a new and frightening weapon of war.
Transcript Letter
1916-07-16
[Post card]
Longmoor Camp,
July 16,1916
Dear Friend,
I suppose you are having a fine time during the holidays. How is the band coming along? Has there been any changes around the old town? Say we had a sunday to-day. This morning we had a practise with gas-helmets and this afternoon we were at the ranges shooting. We expect to finish our musketry course to-morrow, then we will return to Bramshott by a forced march. Duff & Ross are fine. Hope you have good news from your exams by now.
Elmo
1916-07-30
Duff Crerar, Elmo Sully and Bert Campbel in their Blackwatch kilts and highland bonnets. The Uniform of the
Royal Highlanders of Canada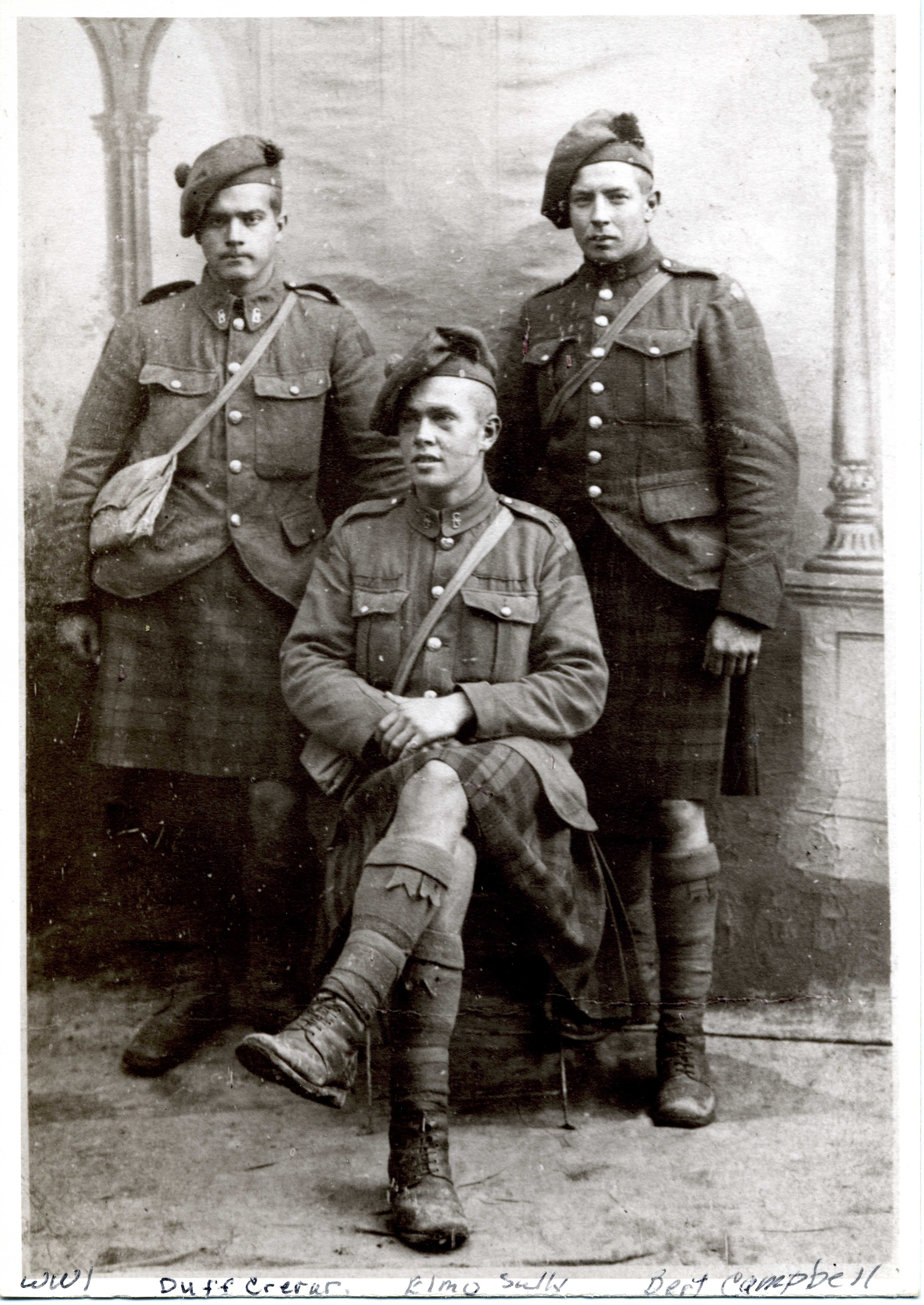 Elmo and his friends are issued with the uniform of the Royal Highlanders of Canada, the regiment which recruited the 73rd Battalion. They will spend much of the rest of the war wearing kilts and highland bonnets, when they are not wearing their steel helmets.
Transcript Letter
1916-07-30
[Post card]
Bramshott Camp
July 30, 1916
Dear Friend,
Say Fannie you should see C.A.G. [Charlie Goodwillie] now in kilts. We got our outfits yesterday and believe me we are some sight especially Charlie. Duff, Ross and I are down here at Liphook to-night; we got back from Longmoor tuesday morning. We did some shooting with gas helmets on and there was some score alright. Some of the fellows couldn't see and just pointed the gun and let it go; I'll give you a description of the helmet when I have more time. We got no Canadian mail yet except from home.
E.A.S.
1916-08-06
Sketch of Uniform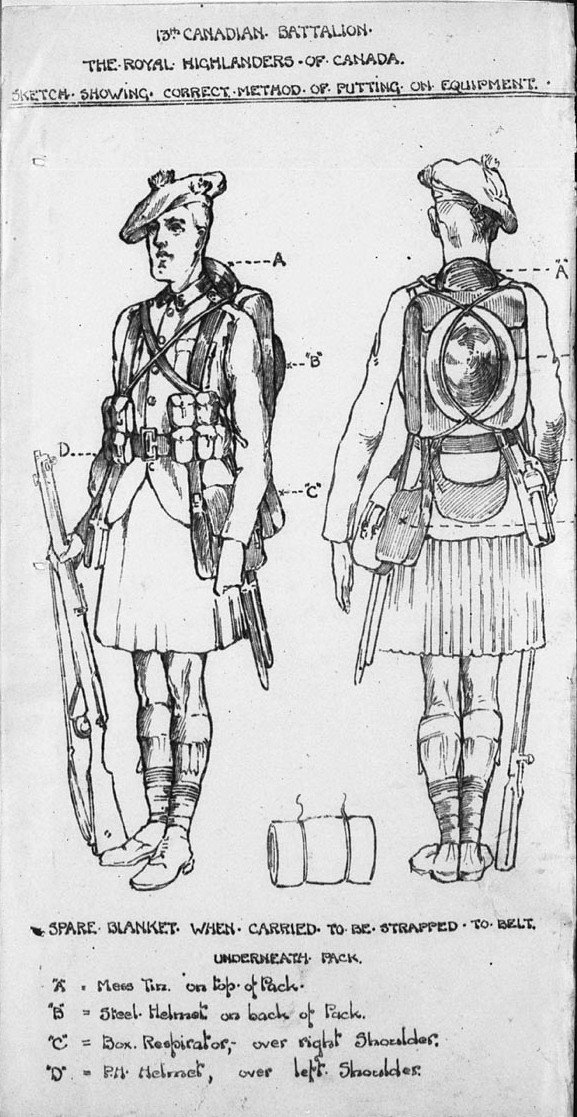 Elmo gets leave and spends the weekend in London. He sees many places that he has only read about in books before. He 'pays' for his weekend of fun with a week of hard training.
Transcript Letter
1916-08-06
Bramshott Camp,
Nr. Liphook., Sunday
Aug. 6, 1916
Dear Fannie,
I received your letter of July 18, friday and that of 22nd to-day. I need not say how glad I was to hear from you. In the first place I want to congratulate you heartily upon your success although I suppose you get enough of that kind of talk around Metcalfe.
You said you imagined you saw "me" in kilts, but I am afraid your idea is faint as the reality is beyond description. I suppose you heard that C.A.G. lost his two stripes since arriving in England. I did not hear that Duff got his certificate; he is on fatigue at the Officer's Mess to-day. Say, some people don't know when they are beaten by what you said of Lyla [Cameron]. I certainly like to take a peep into your kitchen when you are chief cook and bottle washer. It makes me feel like deserting to think of it. ha. ha. I hope your Dad does not give up the band although I know what trouble he has with it. It is too bad about Bernice [Dow] and Annie, I know what it's like to be left behind.
I must give you a short description of my trip to London. In the first place I might say that I spent the three best days of my life last saturday, sunday and monday, all that was lacking was somebody (you know whom I should have liked F.M.I. ) to accompany me. Ross was taking his course and Duff was enjoying himself, you know how; so I had to see the great city myself. I visited the Great [British] Museum, Westminster Abbey, St. Pauls' cathedral, Trafalgar square, Piccadilly circus, London bridge and tower, [Buckingham] palace, the parliament buildings and many other places. St. Pauls' cathedral is beyond description, it made "even me" feel rather awed to stand within and look around. In the Crypt of it are the tombs of Nelson and Wellington, also of Lord Roberts. From the cathedral tower one can get a fine view of the whole city. The Abbey and Museum are also fine. In London one can travel by street-car, bus, railway, taxi or underground; the underground goes like the wind. I quite believe that the population of London exceeds that of Ontario.
You must be beginning to think that I am very lucky to see "mighty London" but I returned to camp monday night, tuesday we drilled, wednesday we had a forced march (over five hours) with the temperature at 104 at noon and full packs, Thursday another march from 4.30 to 9.30 P.M. so you see we pay for what little enjoyment we have. We have to arise at 4.30 A.M. to go to an inspection by Sir Sam Hughes to-morrow at Aldershot Area. Ross returns from London at 10.30 to-night. I will enclose a couple of English roses but they will be badly faded before you get them, I'll send you some better ones if I can. I hope I get that snap from you before we leave, I haven't got a single remembrance from you except your letters and we expect to be moved this week, so be sure and send me some reminder and I will do the same if we do not move too soon. O say, I'll have to take back what I have just said because I have those verses you composed about us three. Wishing you all enjoyment, I remain.
Your chum,
Elmo
Letter 1916-08-10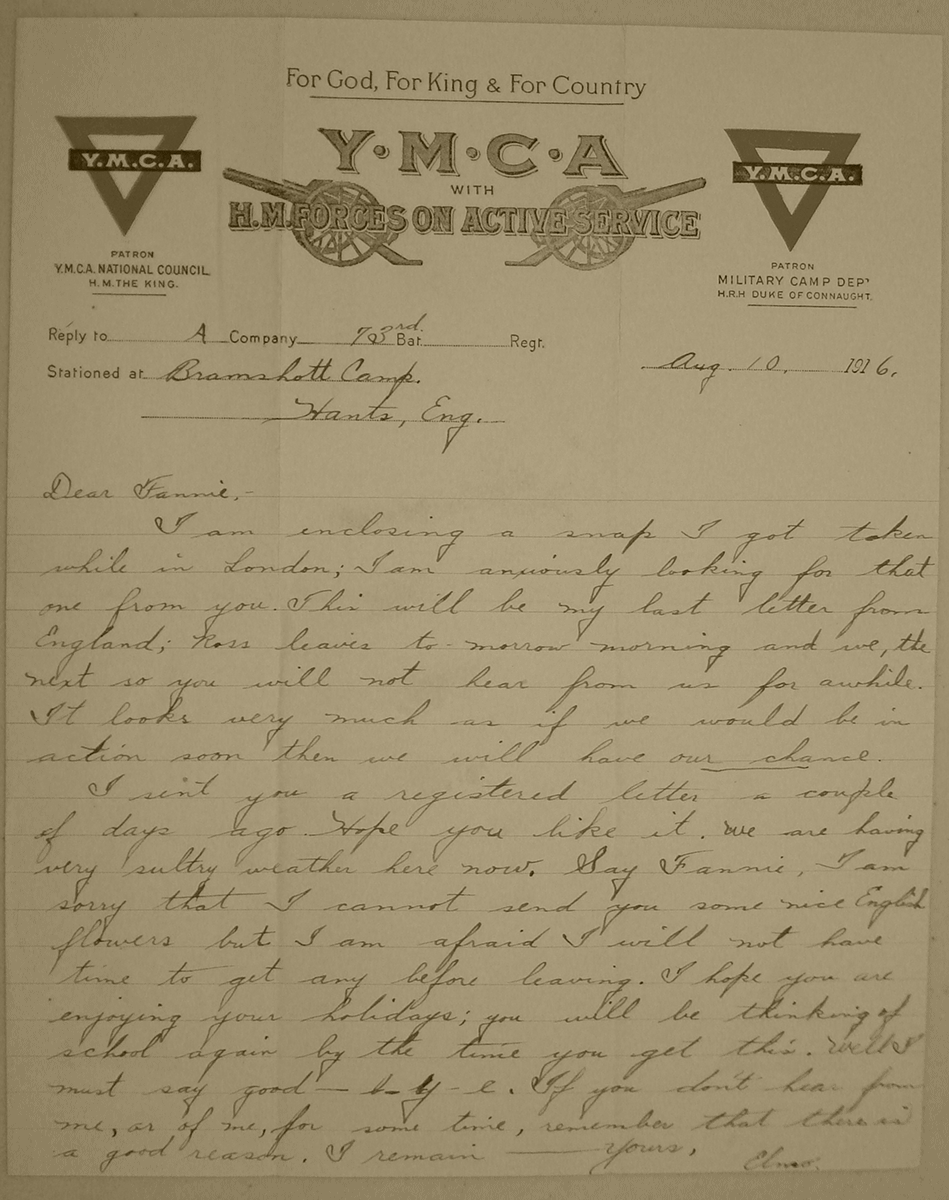 As he gets ready to leave for France, Elmo is aware that he is about to face the reality of war.
Transcript Letter
1916-08-10
Reply to A Company 73rd Bat. ---Regt.
Stationed at Bramshott Camp
Hants, Eng.
Aug.10. 1916
Dear Fannie,
I am enclosing a snap I got taken while in London; I am anxiously looking for that one from you. This will be my last letter from England; Ross leaves to-morrow morning and we, the next so you will not hear from us for awhile. It looks very much as if we would be in action soon then we will have our chance.
I sent you a registered letter a couple of days ago. Hope you like it. We are having sultry weather right now. Say Fannie, I am sorry that I cannot send you some nice English flowers but I am afraid I will not have the time to get any before leaving. I hope you are enjoying your holidays; you will be thinking of school again by the time you get this.
Well I must say good-b-y-e. If you don't hear from me, or of me, for some time, remember that there is a good reason.
I remain ----- yours,
Elmo
Letter 1916_8_11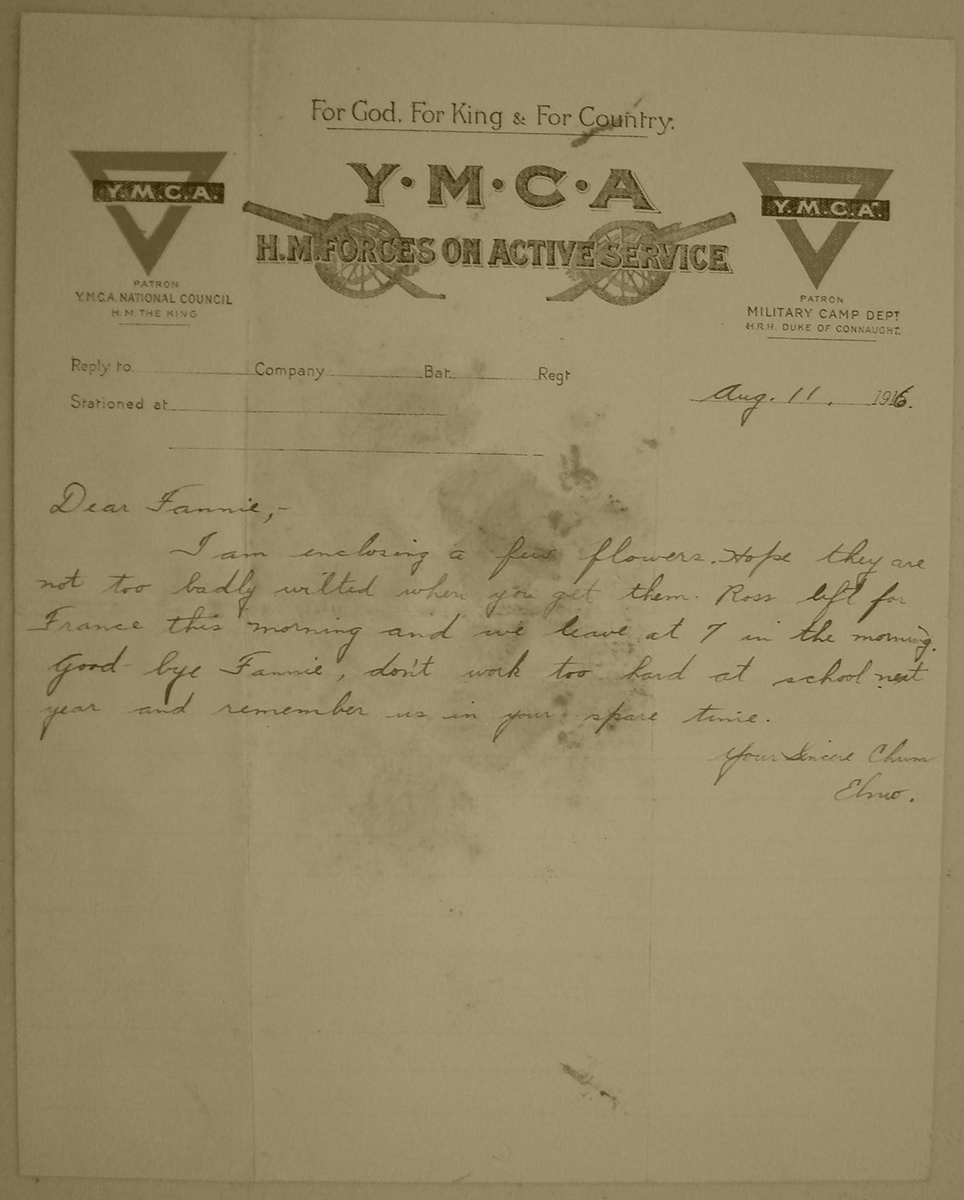 Elmo presses some flowers and mails them to Fannie the day before he leaves England.
Transcript Letter
1916_8_11
Aug. 11, 1916
Dear Fannie,
I am enclosing a few flowers. Hope they are not too badly wilted when you get them. Ross left for France this morning and we leave at 7 in the morning. Good-bye Fannie, don't work too hard at school next year and remember us in your spare time.
Your Sincere Chum
Elmo.
Letter 1916_8_13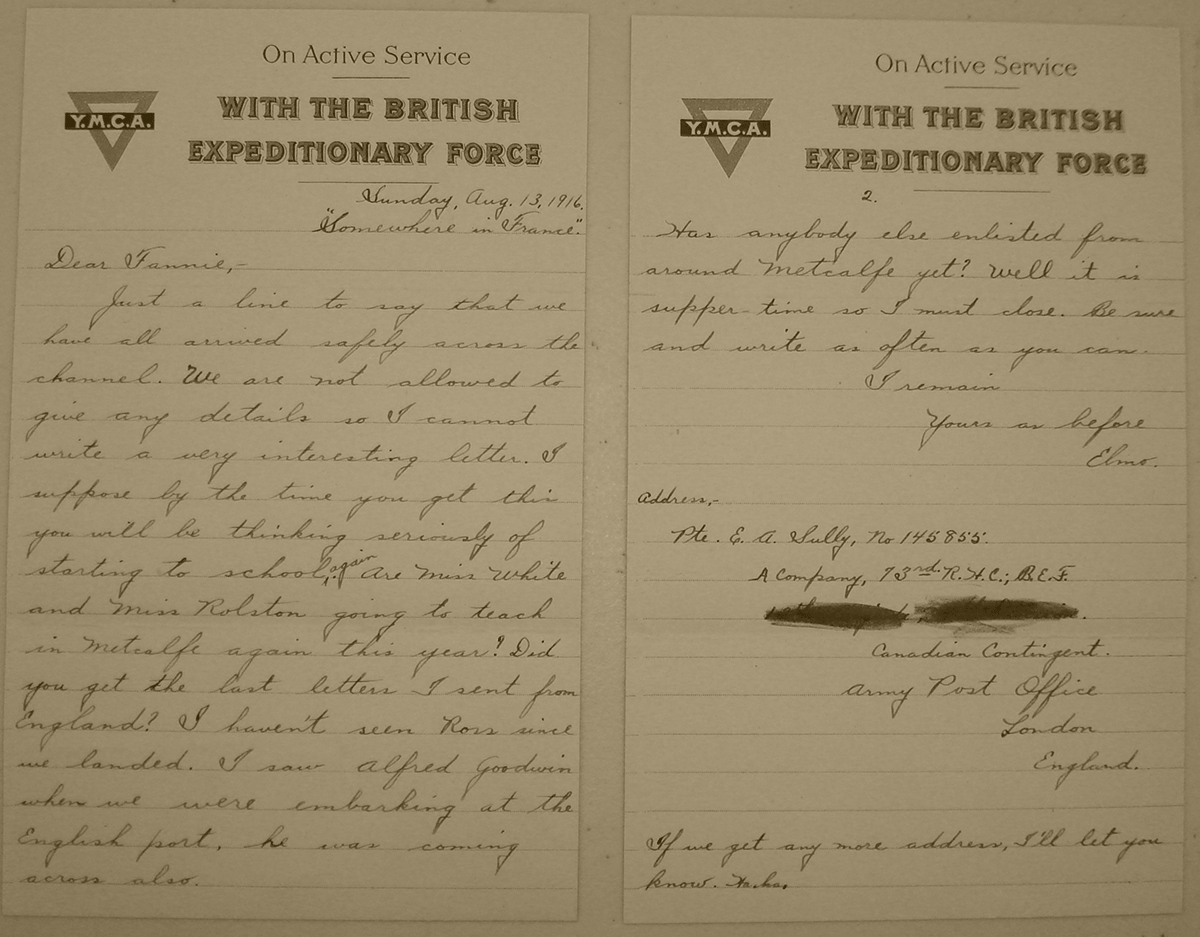 On August 12, 1916, Elmo, Duff and the 73rd Battalion sail overnight across the English Channel to Le Havre, France. Ross crosses at the same time with the 87th Battalion.
Transcript Letter
1916_8_13
Sunday
Aug.13, 1916
"Somewhere in France"
Dear Fannie,
Just a line to say that we have all arrived safely across the channel. We are not allowed to give any details so I cannot write a very interesting letter. I suppose by the time you get this you will be thinking seriously of starting to school again. Are Miss [Mabel] White and Miss [Eva] Rolston going to teach in Metcalfe again this year? Did you get the last letters I sent from England? I haven't seen Ross since we landed. I saw Alfred Goodwin when we were embarking at the English port, he was coming across also.
Has anybody else enlisted from around Metcalfe yet? Well it is supper-time so I must close. Be sure and write as often as you can.
I remain
Yours as before
Elmo.
Address.
Pte. E.A. Sully, No. 145855
A Company, 73rd R.H.C.; B.E.F.
Canadian Contingent
Army Post Office
London
England
If we get any more address, I'll let you know. Ha. ha.
1916-08-19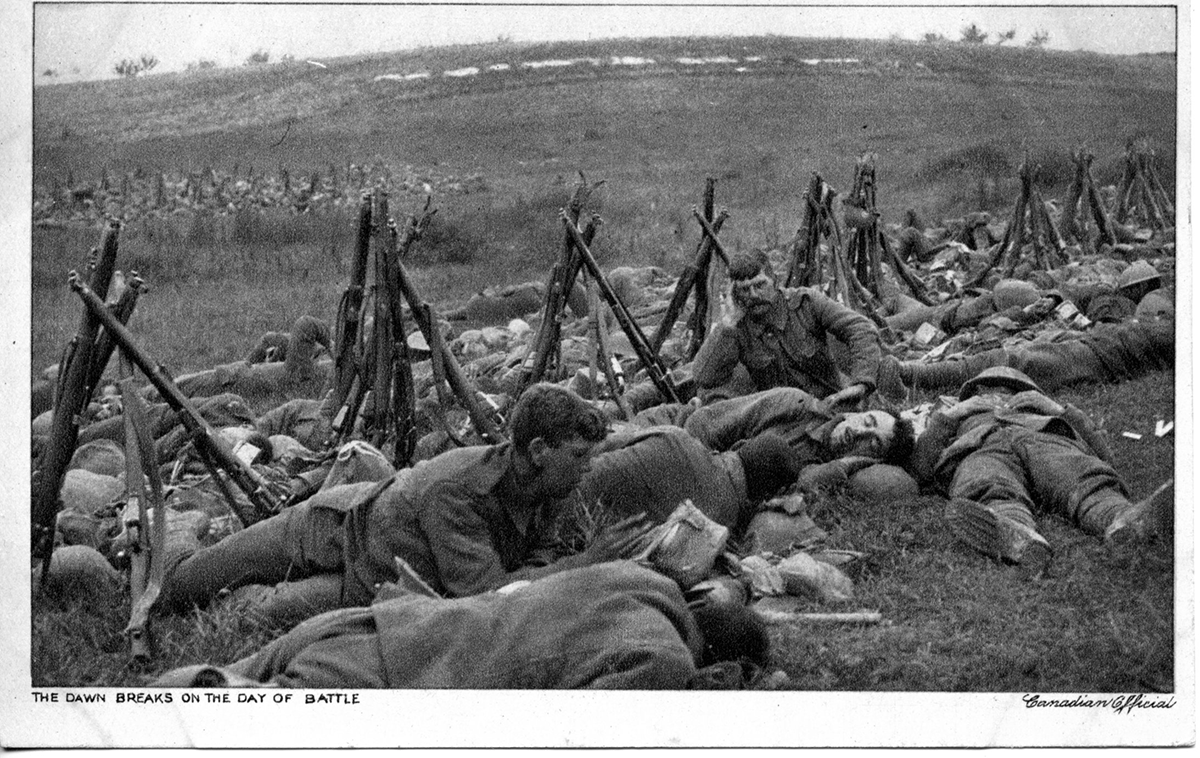 After two nights at Rest Camp No. 1, Elmo is packed into a railway boxcar with thirty-nine of his colleagues and shipped inland. They join the 4th Canadian Division which is holding the front lines at Ypres, Flanders. As he drifts into an uneasy sleep outside Poperinghe, Flanders, on the night of August 15, Elmo hears the unceasing rumble of shell bursts and machine gun and rifle fire, coming from the Ypres Salient.
Ypres is near the northern end of the Western Front which divides Germany from France. A double line of trenches, barbed wire and fortifications runs from the Belgian coast in the north to the border with Switzerland in the south. Several million men, caught in an intractable stalemate, face off across a no-man's land only a few hundred metres wide but more than 700 kilometres long. Neither side is able to gain an advantage and neither will back down.
The next day Elmo is issued with a steel helmet and lectured about using his gas mask. Essential equipment for the front line trenches. He sees for the first time the evidence of the destructive machine that this fight has become in the two years since August 1914. Towns reduced to rubble and abandoned by all civilians. Roads clogged with an unending stream of soldiers, trucks and horse-drawn wagons moving reinforcements, rations and ammunition up to the front line trenches, and bringing back the wounded. Artillery lumbering by towards new positions. And on all sides shell holes, broken tree stumps and mud. And skulking amongst the debris, countless rats fattened on the garbage and the body parts.
But these are not things he will tell Fannie.
Transcript Letter
1916 08 19
Two nights at Rest Camp No. 1 and Elmo is packed into a railway box car with 39 of his colleagues and shipped inland. They join the 4th Canadian Division which is holding the front lines at Ypres, Flanders. As he drifts into an uneasy sleep outside Poperinghe, Flanders on the night of August 15th, Elmo hears the unceasing rumble of shell bursts and machine gun and rifle fire, coming from the Ypres Salient.
Ypres is near the northern end of the Western Front which divides Germany from France. A double line of trenches, barbed wire and fortifications runs from the Belgian coast in the north to the border with Switzerland in the south. Several million men, caught in an intractable stalemate, face off across a no-man's land only a few hundred metres wide but more than 700 kilometres long. Neither side is able to gain an advantage and neither will back down.
The next day Elmo is issued with a steel helmet and lectured about using his gas mask. Essential equipment for the front line trenches. He sees for the first time the evidence of the destructive machine that this fight has become in the two years since August 1914. Towns reduced to rubble and abandoned by all civilians. Roads clogged with an unending stream of soldiers, trucks and horse drawn wagons moving reinforcements, rations and ammunition up to the front line trenches, and bringing back the wounded. Artillery lumbering by towards new positions. And on all sides shell holes, broken tree stumps and mud. And skulking amongst the debris, countless rats fattening on the garbage and the body parts. But these are not things he will tell Fannie.
Somewhere in Belgium [Ypres]
Aug. 19, 1916
Dear Fannie,
8a.m. I was very glad to receive your letters of July 28 and Aug.3. I dropped you a line from France (where we landed) but it is doubtful whether you got it or not. You will see by the heading that we are here on business not for training as some people thought. Ross is about three miles from here but I have not seen him yet. I was writing home last night when who came along but Wilson Merriefield . Believe me we did some talking for the short time we had. They are sounding the "fall in" so I'll finish again as soon as I get time.
9.30. I am going to add a few more lines while I have time. You certainly will have a fine time if Eunice out to visit you. Say! wouldn't I like to be in your back kitchen for about 5 minutes to sample your cooking. It makes me feel like-----you know what----- when I think of the candy you used ter' make. I am really alarmed when I hear that Stella and Harold are getting "thick" again, I think there is something serious there. Is Miss [Gertrude] Meldrum coming back to Metcalfe [school] next year? They are calling for A company again so au revoir.
10.15 a.m. It is again pouring rain so we have a short rest. I am sure Hilda and Lloyd [Stanley?] are cutting some dash. (Excuse the slang.) But I don't think Duff has any knowledge of it and you may be sure I won't tell him. I really pity you if you can't get a "feller" but if you talk up real nice to Ed. B. or Carman Boyd you might make a hit. ha. ha. I do not blame Miss Byers for being disgusted with Ed, I think almost everybody has the same idea. I also give her credit for keeping clear of Vibert Craig . Parker Weaver certainly has some brotherly love, or something like that, for Ward when he tries to "perfume" Lulu. Is it really so that Agnes McIntosh is about to be married to Gilbert Anderson? I wonder why some people do foolish things like that.
I don't know how far I was from Rochdale when in England but I am quite a distance from there now. I had a letter (the first) from Eunice last night. I suppose you will have seen her before this. There must have been some high talking in Metcalfe after they lost the baseball match. I imagine I hear Ed.
Say! the preacher's son must be some class; I am getting totally discouraged. I should have liked to be in the berry marsh that day you spoke of but I might have got the lemon eh! ha. ha. Well you will be tired of reading this so I'll wind up. By the time you get this we will have been up the line and either back again or up for good (sprouting daisies) eh. Be sure and write often and tell Miss Byers she might write a couple of lines next time instead of making queer-looking mark that might mean something and again might not. Au Revoir Je reste votre ami
Elmo.
Pte.E.A. Sully, No 145855
No. 1 platoon, A Company