Letter 1916-11-21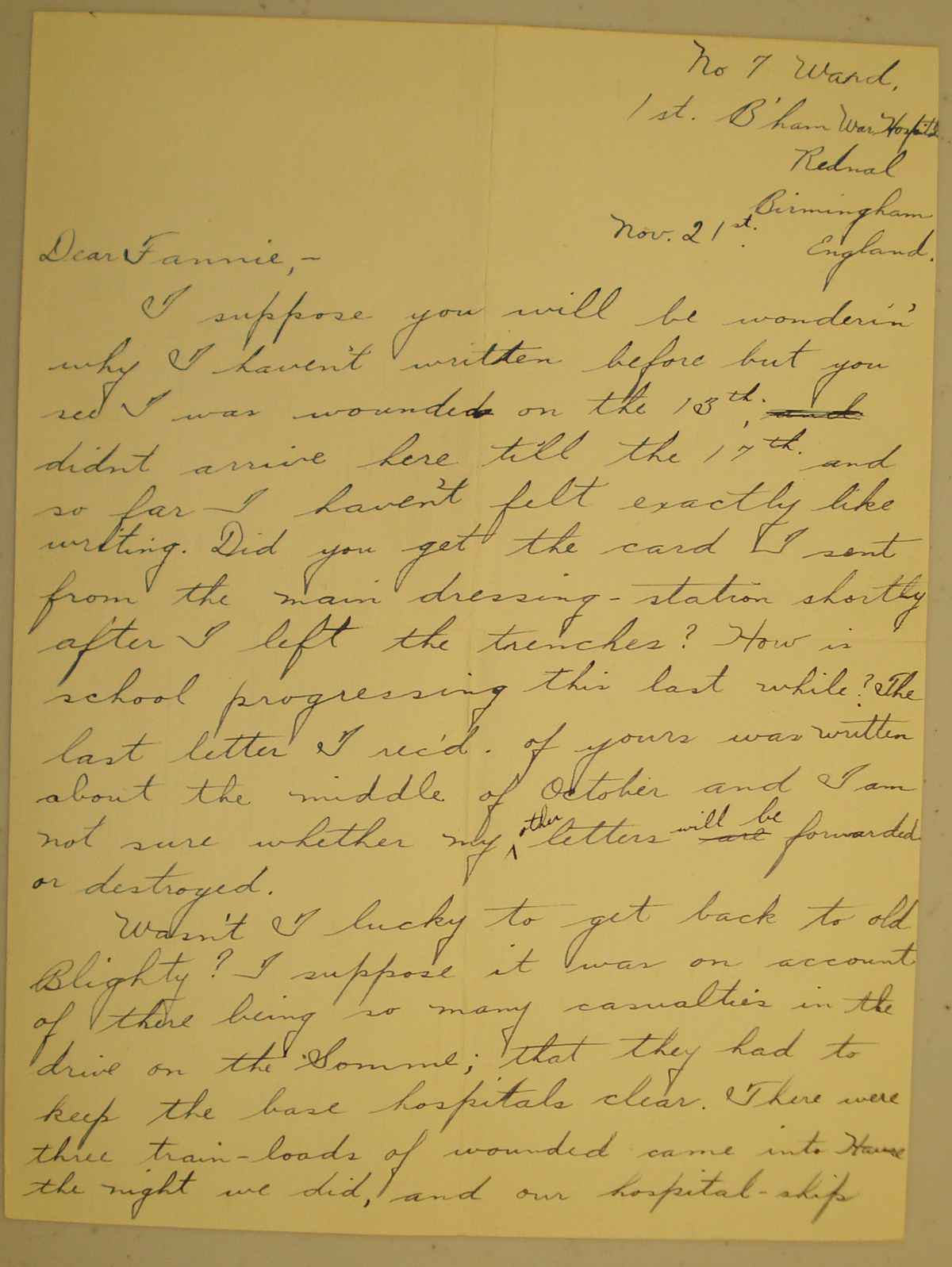 Elmo is taken to a base hospital, and then transferred to a hospital ship. He crosses the Channel to England, landing in Southampton. Four days after he is wounded, he reaches the 1st Birmingham War Hospital. November 19, Ross is also slightly wounded in the head and is evacuated to England.
Transcript Letter
1916-11-21
No.7 Ward
1st B'ham War Hospital
Redmal
Birmingham
England
Nov. 21st [1916]
Dear Fannie
I suppose you will be wonderin' why I haven't written before but you see I was wounded on the 13th, didn't arrive here till the 17th and so far I haven't felt exactly like writing. Did you get the card I sent from the main dressing station shortly after I left the trenches? How is school progressing this last while? The last letter I rec'd of yours was written about the middle of October and I am not sure whether my other letters will be forwarded or destroyed.
Wasn't I lucky to get back to old Blighty? I suppose it was on account of there being so many casualties in the drive on the Somme; that they had to keep the base hospitals clear. There were three train-loads of wounded came into Havre the night we did, and our hospital-ship had five hundred and twenty cases on board although she was the smallest of the three hospital ships that crossed the channel together so you can imagine the amount of wounded there is. We landed at Southhampton and came to Birmingham by train, and from the train to the hospital in private cars; some class eh!
Have you heard how Miss White's brother is? What hospital is he in in England or is he still in France? I didn't see Ross for some time before I left the line but Duff was only a few rods from me when I was hit.
I wish I could give you my future address but it is impossible as I may be shunted out of here any time and either sent to a camp for a short while or else sent back to the Front. I don't know whether I'll get back to the 73rd or not. If you write to my present address they might forward it but the chances are small.
Say Fannie I am glad you can't see me now or you'd sure hurt yourself laughing. Here we wear a uniform of soft gray material; long trousers (sailor style); a red tie; white (soft) shirt; shoes with toes and no heel but complete soles; and to complete it we are given a large red hankerchief. My coat is too short and my shoes are too large so with my head all tied up like a candy-pig, I am quite a sight.
The specialist came around yesterday morning to have a look at us and when he had examined the groove across my forehead he says; "Pretty close! Pretty close! A trifle higher and it would have hit the brain" and added after a pause "that should be there". Of course the nurse and Sister had a laugh at my expense but the old Doc seemed so dry, I was glad to give him credit for the joke.
It is a great relief to be back here and can send a letter without it being censored. When we first went to France we held the line near Ypres but when "mine came" we were doing our last term in the drive at the Somme. About two minutes before we were starting out word came down the line to get on our equipment and I had gone along trench about two rods and was crossing a part that had been blown in by a shell when something hit me on the forehead and I wakened up to find blood pouring down over my face and Brown (another Bomber) kneeling over me; after the S.B. bandaged me up I beat it (overland) to the dressing-station.
I haven't much news so I guess I'll close. Gee! I wish I had some Canadian mail. I am the only Canadian in the ward the rest are Australian and Imperials, so you see its mighty lonesome although the Sisters and Nurses are O.K. but it isn't as if you had an old friend. I don't suppose anyone will be seen "out" with me if I do get back after the war for I'll have an awful scar and ridge across my forehead but perhaps you won't mind dropping me an odd line anyhow. I hope you are enjoying the best of health and not working too hard at school.
I remain yours.
Elmo.
Part 6, Letter 1, November 21, 1916
How is Elmo injured? What seems to be his attitude to his being injured?
Part 6, Letter 4, January 13, 1917
Describe the injuries of his fellow soldiers.
War Hospital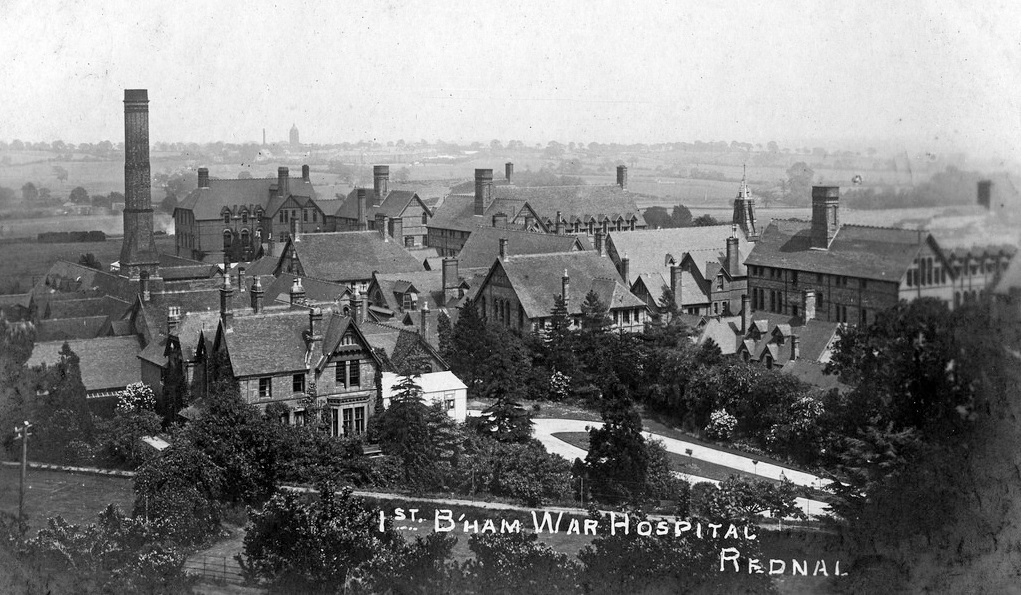 Elmo's doctors examine a long grooved wound across his forehead, superficial, but to the bone. He is also treated for conjunctivitis, or pink eye, in his eyes. He attends an English church service.
Transcript Letter
1916 12 17
Ward 6C.
1st B'ham War Hospital
Rednal
Birmingham
Dec. 17 [1916]
Dear Fannie,
Just a line to let you know that I am still kicking about in the hospital. I had a letter from Duff last week and one from my corporal; they are away from the Somme now and enjoying a much needed rest, back in billets. It seems they were in the trenches twice after I left and two more of our bombers are here in Blighty and another was so badly wounded that he wasn't expected to live. I guess they'll be glad to get away from "Somme fighting" for a while.
I was down to English church service in the chapel here this morning and believe me it was some service. It is a little different from the English service in Canada and the worst of it is they keep you ducking up and down most of the time. The main thought of the sermon was concerning the war and economy along all lines.
I haven't any news of interest as my Canadian mail hasn't arrived yet but hope to hear from you soon! I may leave here tomorrow and may not; they won't tell you when or where you are going.
Remember me as
Your Sincere Friend
Elmo
1917-01-01
Woodcote
Elmo finds himself out of touch with both his friends in Metcalfe and his friends in France
Transcript Letter
1917-01-01
Rednal
Jan. 1st [1917]
Dear Fannie,
Just a line in answer to your very welcome letters of Oct. 23rd and Nov. 19th which I received a couple of days ago with some of my returned mail. I have not yet heard from you in answer to my letter from here, perhaps my letter went astray. I'll answer your letters first then I'll give you what little news there is.
I am very sorry that you were so long in hearing from me but can honestly assure you that I wrote at least once a week except one spell when we were in reserves on the Somme for a couple of weeks steady and there was no mail delivery. I am very sorry to hear that Miss White's brother is dead; it must be very hard on her.
You must have a great time skating back on the old "Beaver", I wouldn't like to be there! Oh no!
I guess Russell Morrow is no more if he is still missing; it will be very hard on his mother. Jones has got his life job at last eh. Ha. ha. I'll be very pleased to get one of those snaps and will be looking for it.
I had a card from Ross but haven't got his address yet. He is here in Blighty somewhere. When he wrote he didn't know I was wounded although I got mine five days before him. Duff was O.K. a week ago; he expects to get furlough soon.
I haven't much news Fannie so will close for now, hoping to hear from you soon.
I remain, Yours as Ever
Elmo
P.S. I forgot to tell that I got a dandy parcel from the Metcalfe Red C[ross] this morning. I am leaving here tomorrow or wednesday. E.A.S.
Letter 1917-01-13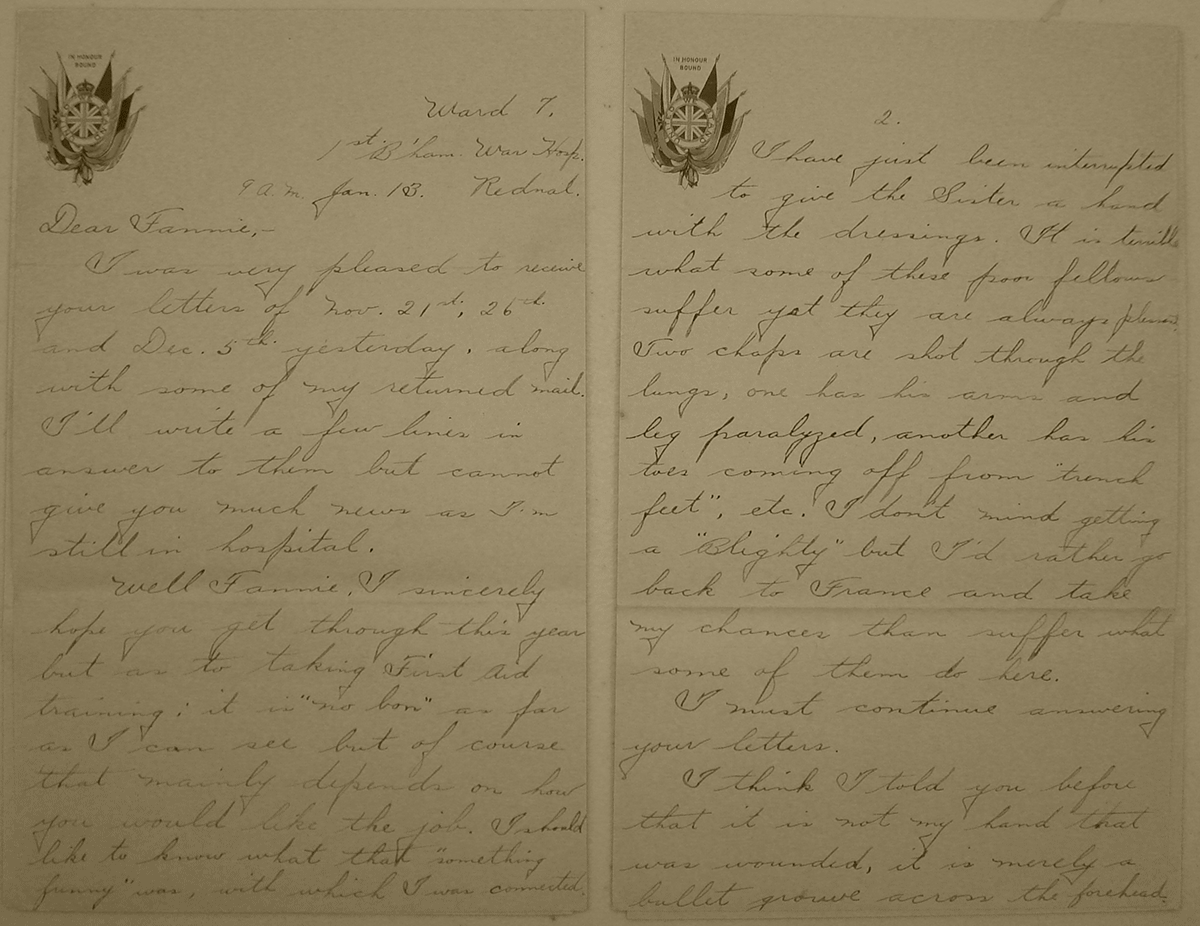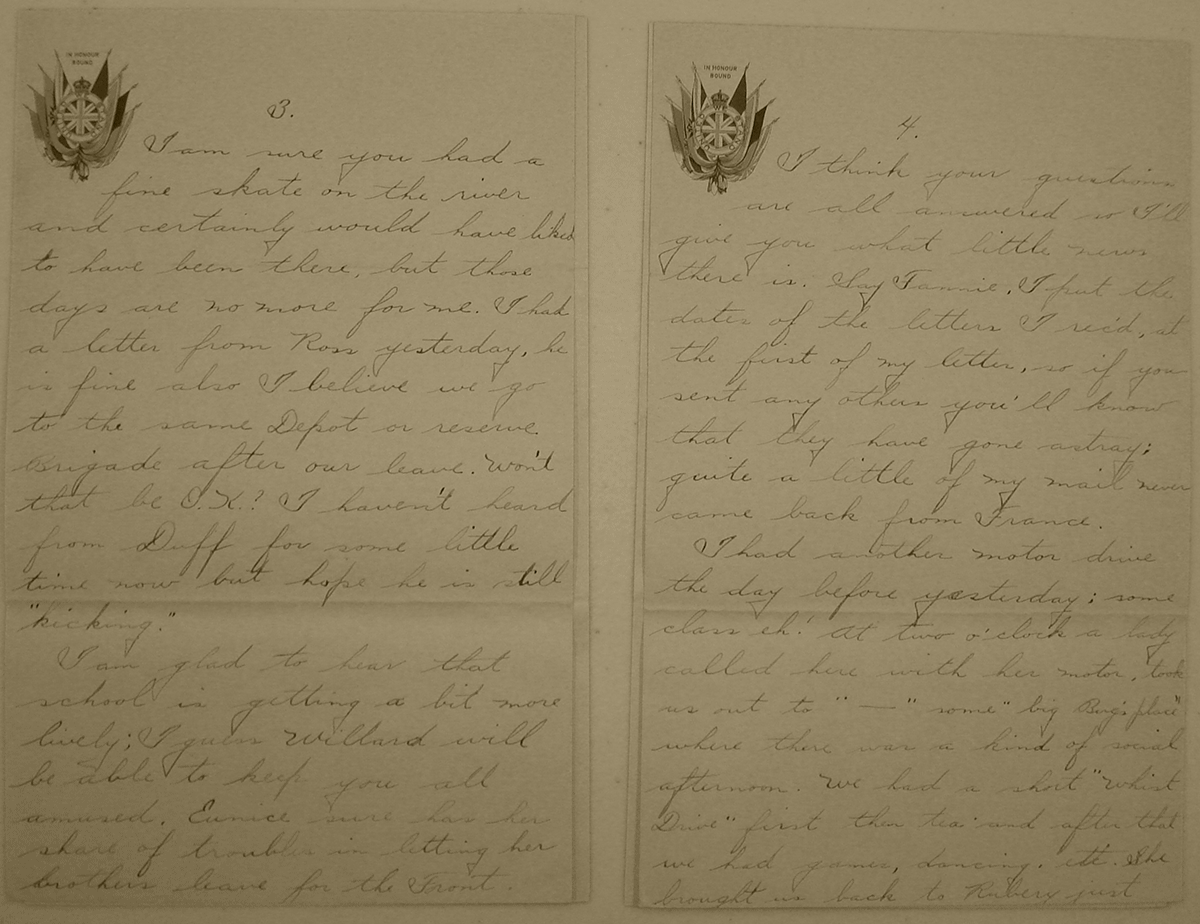 Elmo is kept busy in the hospital, helping the nurses
Transcript Letter
1917-01-13
Ward 7,
1st B'ham War Hosp.
Rednal
9 a.m.
Jan.13 [1917]
Dear Fannie, I was very pleased to receive your letters of Nov.21st; 26th and Dec. 5th yesterday, along with some of my returned mail. I'll write a few lines in answer to them but cannot give you much news as I'm still in hospital.
Well Fannie, I sincerely hope you get through this year but as to taking First Aid training; it is "no bon" as far as I can see but of course that mainly depends on how you would like the job. I should like to know what that "something funny" was, with which I was connected.
I have just been interrupted to give the Sister a hand with the dressings. It is terrible what some of these poor fellows suffer yet they are always pleasant. Two chaps are shot through the lungs, one has his arms and leg paralyzed, another has his toes coming off from "trench feet", etc. I don't mind getting a "Blighty" but I'd rather go back to France and take my chances than suffer what some of them do here.
I must continue answering your letters.
I think I told you before that it is not my hand that was wounded, it is merely a bullet groove across the forehead.
I am sure you had a fine skate on the river and certainly would have liked to have been there, but those days are no more for me. I had a letter from Ross yesterday, he is fine also I believe we go to the same Depot or reserve Brigade after our leave. Won't that be O.K.? I haven't heard from Duff for some little time now but hope he is still "kicking".
I am glad to hear that school is getting a bit more lively; I guess Willard will be able to keep you all amused. Eunice sure has her share of troubles letting her brothers leave for the Front.
I think your questions are all answered so I'll give you what little news there is. Say Fannie, I put the dates of the letters I rec'd, at the first of my letter, so if you sent any others you'll know that they have gone astray; quite a little of my mail never came back from France.
I had another motor drive the day before yesterday; some class eh! At two o'clock a lady called here with her motor, took us out to " ____" some "big Bug's place" where there was a kind of social afternoon. We had a short "Whist Drive" first then tea and after that we had games, dancing, etc. She brought us back to Rubery just before seven, when our pass expired. It was the first really enjoyable evening I've had since I left Metcalfe.
Say Fannie, I must thank you for your share in that "school" parcel. Those cookies were O.K. even if you didn't make them. That parcel was a great surprise to me as I had never thought of the like.
You'll be tired reading this trash so I'll close with best wishes for your success in school work. Remember me as,
Your old School mate
Elmo
1917-01-13
Woodcote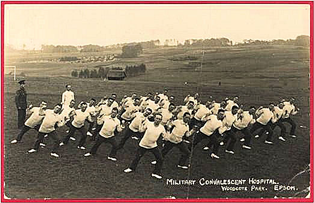 At the end of January 1917, Elmo is admitted to the Canadian Convalescent Camp at Woodcote Park. The skin over his wound is still thin, his teeth are in bad shape, his eyes bother him and he has headaches at night. Ross has been there for a couple of weeks also recuperating from a minor head wound. They enjoy the opportunity for outings to town.
In Metcalfe, Fannie's mother becomes ill and Fannie begins to do all the housework as well as her school work.
Transcript Letter
1917-01-21
Hut A8
Can[adian] Convalescent Camp.
Woodcote Park.
Epsom.
Jan.21 [1917]
Dear Fannie,
Just a line to let you know that I've been shifted from the hospital down here. I met Ross yesterday, he is looking real well and I really believe he is getting fat.
We will likely be able to spend our time together here but I am afraid we won't get out together as he has been here a month already. We intend going to Epsom this afternoon. I haven't heard from Duff for some time but guess he is too busy to write.
I haven't got any Canadian mail for quite a while so am completely out of news.
Write soon, soon to Your old School mate
Elmo
1917-01-28
Woodcote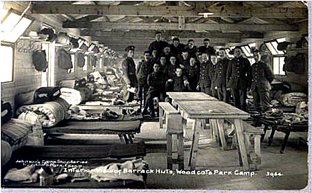 Elmo waits for an eye report. Ross is transferred to the 22nd Reserve Battalion on the English coast at Hastings.
Transcript Letter
1917-01-28
Hut A8.
Can. Conv. Camp.
Woodcote Park.
Epsom.
Jan. 28. [1917]
Dear Fannie,
I just received your letter of Dec. 6, last night and am answering it as soon as possible. You see it was delayed on account of being sent to my old address; it went to France and back.
Say Fannie! Eunice must feel rather blue at the 207th leaving, if she has a brother and a "particular" friend in it. I'd write her a letter of "sympathy" but as you say "I must be mum". You needn't worry about me wearing the red tie; it sure looks bad in more ways than one but we have to wear them. As to the pretty nurses, they are very nice and all that but "take me back to Canada". I had a letter from Duff last week, he is still kicking. The address at the top of this letter will get me as long as I am here but I cannot give a permanent address.
Ross was in this morning to tell me that he is leaving for Hastings on wednesday. I will not be able to get on leave with him for I have to go to Horton for an eye test wednesday; hard luck eh! We are going to Epsom to-night "if it isn't too cold" ha.ha.
Wishing you all success in you school work,
I remain
Yours as B4
Elmo
Letter 1917-02-12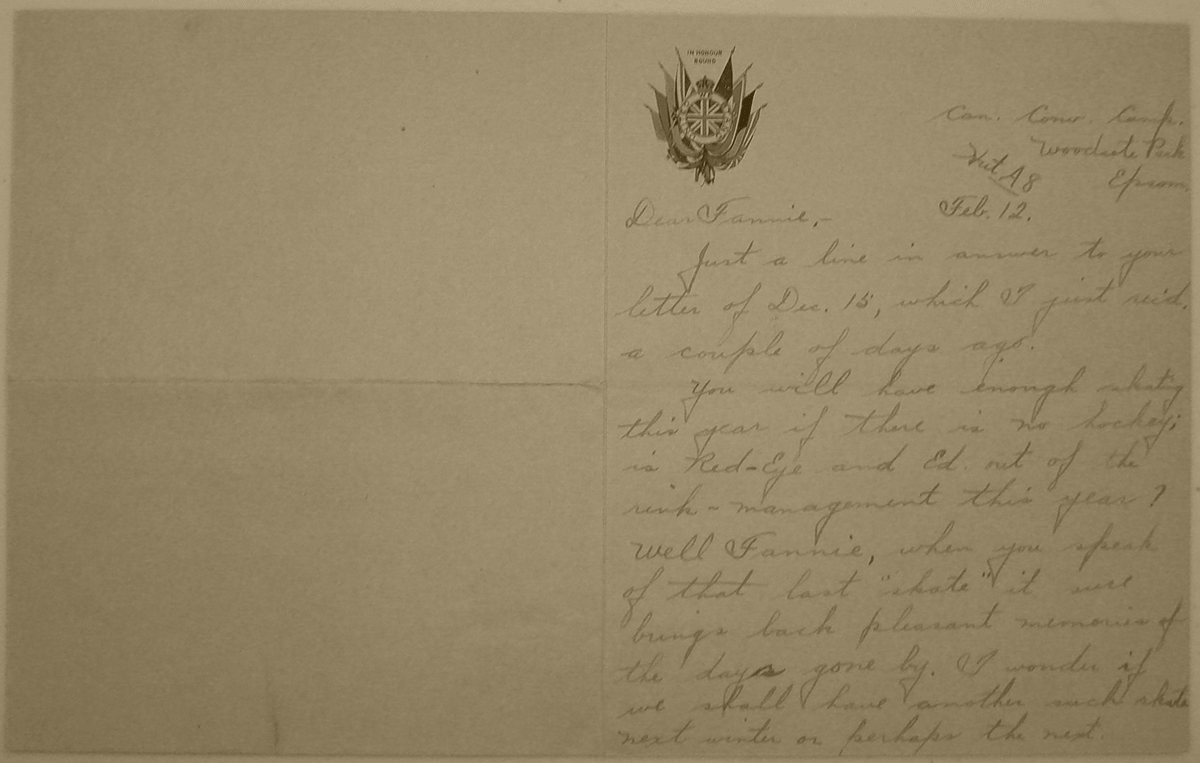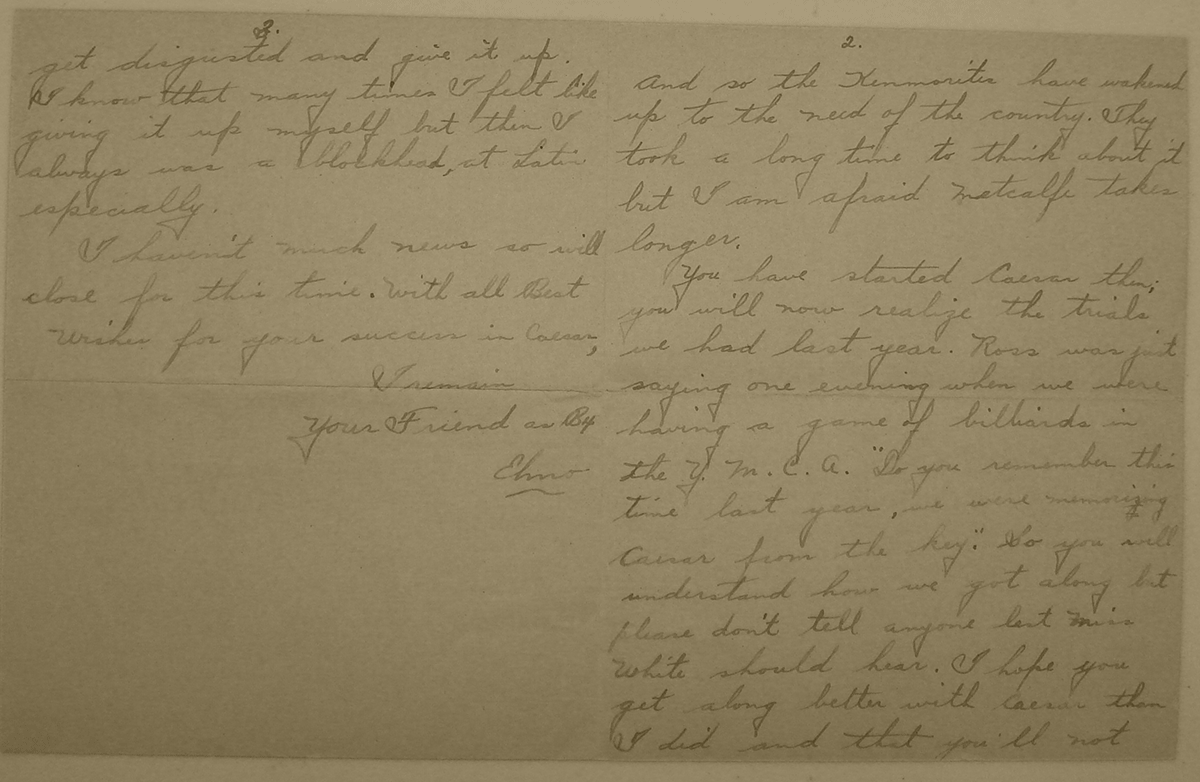 Well clear of the fighting, Elmo's thoughts slip back to his school days.
Transcript Letter
1917-02-12
Hut A8
Can. Conv. Camp.
Woodcote Park
Epsom
Feb. 12. [1917]
Dear Fannie,
Just a line in answer to your letter of Dec.15, which I just red'd a couple of days ago.
You will have enough skating this year if there is no hockey; is Red-Eye and Ed out of the rink-management this year? Well Fannie, when you speak of that last "skate" it sure brings back pleasant memories of the days gone by. I wonder if we shall have another such skate next winter or perhaps the next. And so the Kenmorites have wakened to the need of the country. They took a long time to think about it but I am afraid Metcalfe takes longer.
You have started Caesar then ; you will now realize the trials we had last year. Ross was just saying one evening when we were having a game of billiards in the Y.M.C.A. "Do you remember this time last year, we were memorizing Caesar from the key". So you will understand how we got along but please don't tell anyone lest Miss White should hear. I hope you get along better with Caesar than I did and that you'll not get disgusted and give it up. I know that many times I felt like giving it up myself but then I always was a blockhead, at Latin especially.
I haven't much news so will close for this time. With all Best Wishes for your success in Caesar,
I remain
Your Friend as B4
Elmo
Letter 1917-03-07
Woodcote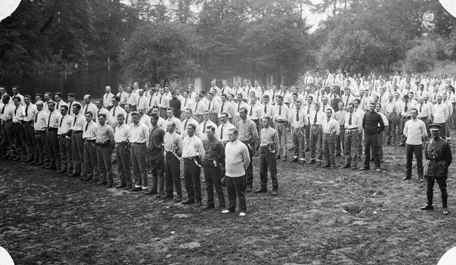 Elmo has been prescribed glasses, but they haven't arrived. The slow pace leaves little to write about.
Transcript Letter
1917-03-07
March 7 [1917]
Dear Fannie,
I was very pleased to receive your letters of Jan. 12th and Feb. 11th a few days ago. You will be surprised to see that I am still in England but my outside windows haven't arrived yet so I am "waiting patiently".
Say Fannie, if you keep on growing, you'll be away above my level by the time the war is over. I shall be looking forward for that snap and hope to soon be able to give you a permanent address. Many thanks for your offer to send some magazines but the only reading I do is letters so you know the kind of "magazines" I like.
Walter Bishop was in the 73rd alright, I knew him quite well and saw him the day I was wounded. I haven't heard from Duff for some time but guess he is tired of writing. There is nothing new going on around here so I'll have to close wishing you all success with your school work.
I remain
Your Chum
Elmo